Medium-Term Management Plan
Earnings Growth Scenario
In both fiscal 2017 and fiscal 2018, profit attributable to owners of parent exceeded forecasts put forth in the Company's medium-term management plan (announced April 2017). These increases were due to higher revenue as a result of an increase in daily sales at brand converted stores as well as our success with efforts to reduce costs by closing unprofitable stores.
In fiscal 2019, profit attributable to owners of parent reached ¥50.0 billion on an actual basis that excludes special factors such as increased retirement payments related to the Company's early retirement incentive plan. This came as a result of a reduction in impairment losses due to the closing of unprofitable stores, in addition to the effective management of advertising and sales promotion costs.
In fiscal 2020, the final year of the plan, we have factored in the impact from the spread of COVID-19 on our business performance up through the end of April 2020. Drawing on the ¥50.0 billion in profit attributable to owners of parent recorded on an actual basis (which excludes special factors) in fiscal 2019, we intend to utilize ¥9.0 billion of profit attributable to owners of parent for expenses related to supporting franchised stores and executing capital investments in stores. Furthermore, for fiscal 2020 we forecast profit attributable to owners of parent of ¥60.0 billion, factoring in cost reductions centered on the optimization of employee numbers at our headquarters and decreased rent fees, a reduction in impairment losses and losses from closures through store regeneration and efforts to curtail store closures, and an overall improvement in profitability.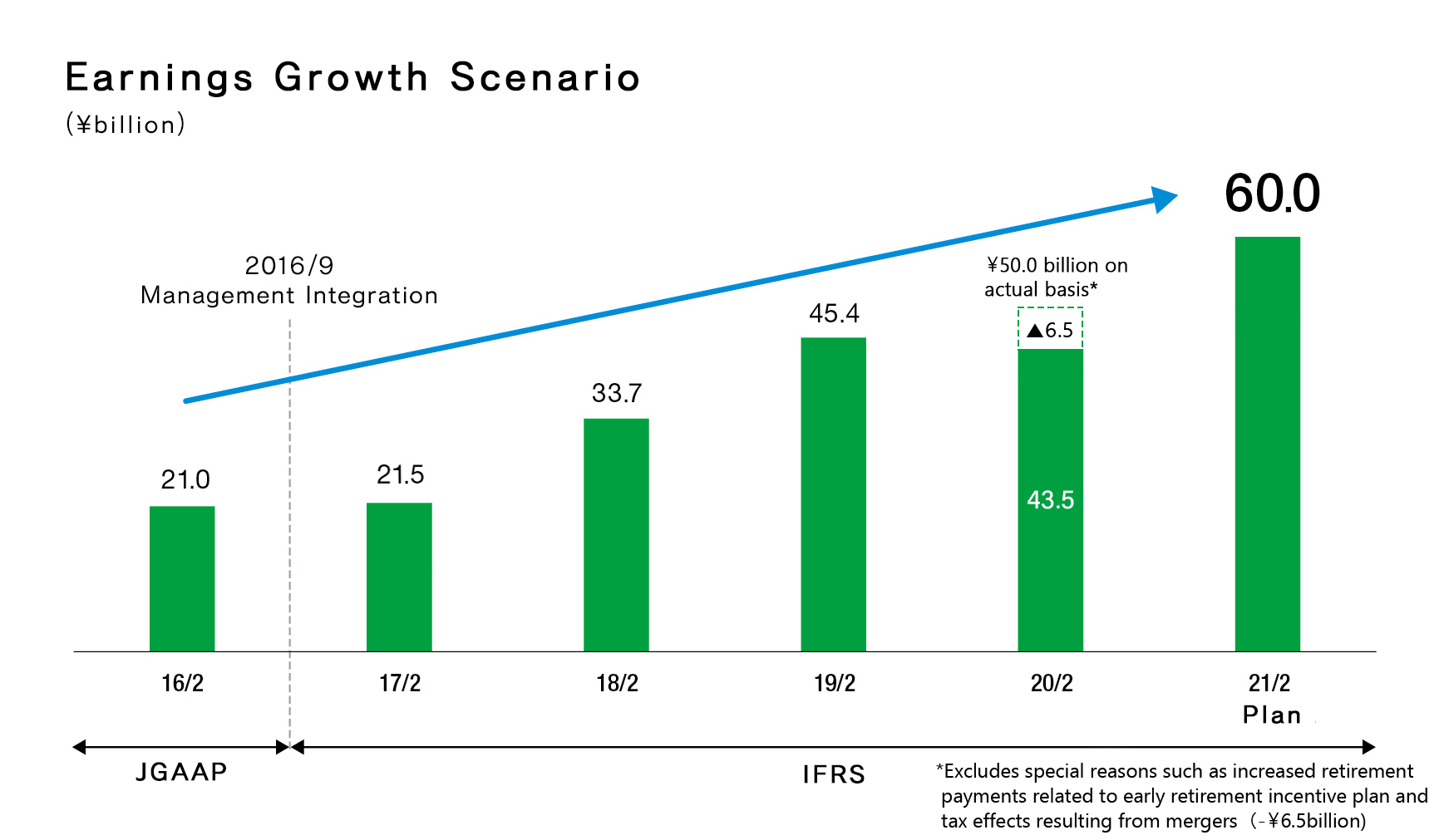 Key Initiatives for Fiscal 2020
We aim to revise our store management in accordance with the significant changes in the market environment and establish a business model that caters to the current times. To that end, we will implement the following initiatives with a sense of urgency: Make steady progress implementing franchise store support initiatives; strengthen profitability; advance financial and digital strategies; provide response to the spread of COVID-19; and promote business collaboration with Pan Pacific International Holdings Corporation (PPIH).
<Make Steady Progress Implementing Franchise Store Support Initiatives>
With the aim of reinforcing the business foundation of our franchisees, we will allocate ¥11.0 billion annually toward new franchised store support initiatives such as expanding the incentive system for operating multiple stores and re-contracting, increasing incentives for 24-hour operations, and revising the incentive scheme for assisting with food waste-related losses. Additionally, we will pursue efforts to respond to the significant market changes in a flexible and bold manner, including providing the option for franchised stores to introduce shorter business hours.
<Strengthen Profitability>
We will establish the Store Regeneration Division within the organizational structure of our headquarters. This division will work to establish store regeneration schemes to boost the profitability of individual stores. It will also promote overall store regeneration and the "return to franchise" process. In addition, transitioning away from a structure of comprehensive management by our headquarters, we will establish the Area Division comprising four regional headquarters and transfer authority of local sales and development functions to these headquarters. By doing so, we will roll out sales promotions that cater to local characteristics as well as promote product development, lineup enhancement, and store creation by unifying franchised stores and the Area Division.
We will also move forward with efforts under the product development concept of health, satisfaction, and fullness to increase product competitiveness and strengthen sales. These efforts will include revamping our coffee products and enhancing frappés as well as implementing sales promotions on an ongoing basis. They will also include enhancing the lineup and quality of "Mother's Kitchen" and other growing product categories. In addition to these efforts, we will reduce SG&A expenses by promoting structural reforms.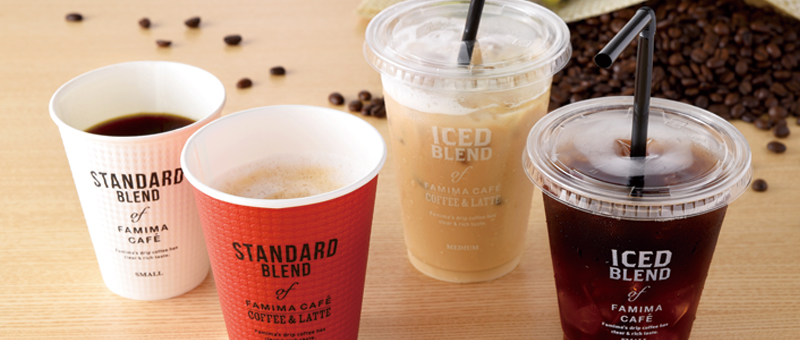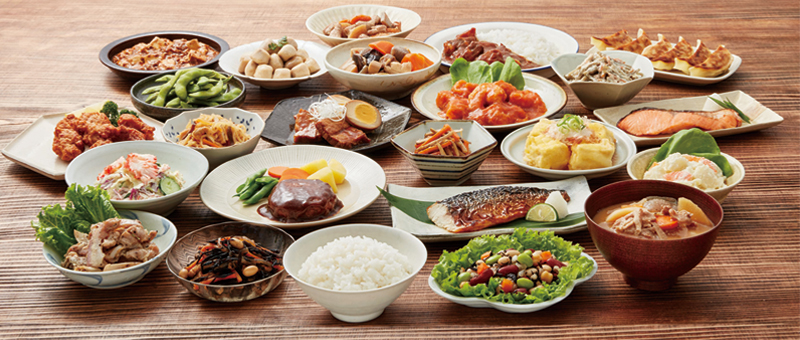 <Advance Financial and Digital Strategies>
The FamiPay app for smartphones, launched in July 2019, has become a convenient tool for customers through linkages with the d Point, Rakuten Points and T-Point point systems in November 2019. As of February 29, 2020, the ratio of cashless payments at FamilyMart stores was approximately 30%. Also, in March 2020 we launched a service that allows customers to charge the FamiPay app from individual bank accounts. During fiscal 2020, we will move forward with a variety of store measures and campaigns to achieve our target of achieving 10 million downloads for the FamiPay app.
Additionally, we will promote efforts toward financial businesses, including microfinancing and other services center on the FamiPay app and FamiPay transactions. We will also implement measures that enhance the value of the FamiPay app as an advertising medium.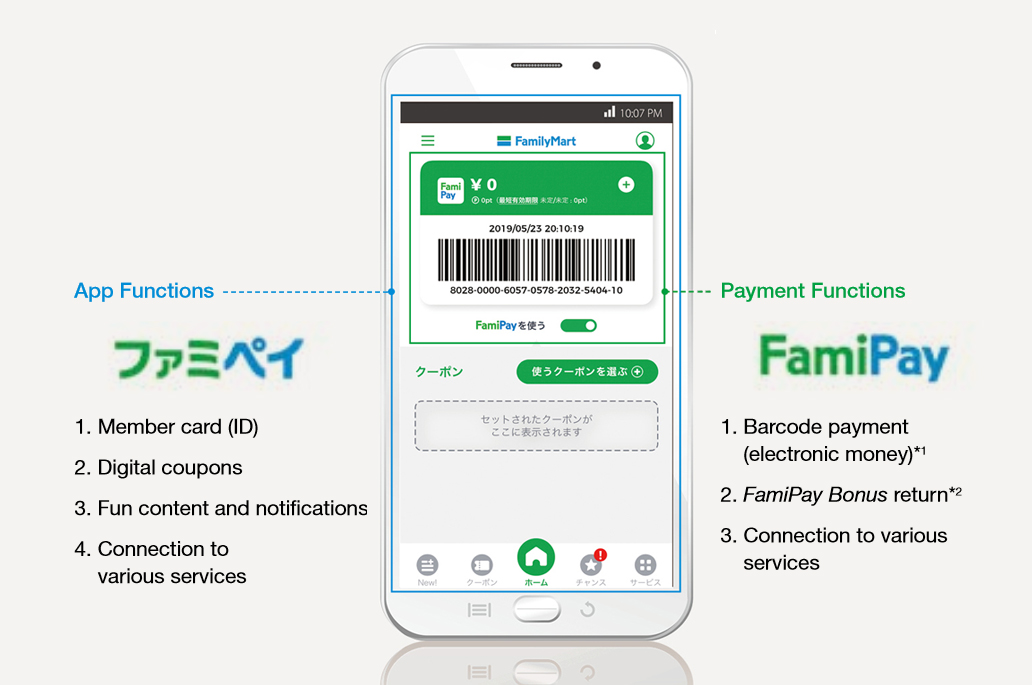 <Provide Response to the Spread of COVID-19>
In order to fulfill our role as part of the social and life infrastructure of local communities, we will create store environments that allow customers to shop with peace of mind while putting the utmost priority on the safety and health of our customers, employees, and related parties. To respond to changing consumption trends stemming from COVID-19, we will ensure a stable supply of daily necessities, enhance product lineups for long-term, stay-at-home consumption, and promote sales of products that support day-to-day lifestyles.
< Promoting Collaboration with Pan Pacific International Holdings Corporation >
We will promote collaboration with Pan Pacific International Holdings Corporation through ongoing initiatives in the areas of joint development of products and services, collaboration in the financial services field, and joint operation of overseas businesses.

Dividend Policy
The Company considers returning its profits to the shareholders to be an important management policy. The Company abides by a fundamental policy of stably distributing consolidated performance growthbased results on a continuing basis with regard to cash dividends. The Company's payout ratio target will be 40% on a consolidated basis.