As a local essential services provider, FamilyMart implements measures to prevent the spread of COVID-19, with cooperation from the government and municipalities, to ensure our customers can always shop without worry.
Safety Measures in Stores
Preventative measures remain in place at our stores. We continue to encourage staff to wash and sanitize their hands, and wear masks at all times while on duty.
1

Installing hand sanitizer stand for customers.

2

Encouraging staff to wear masks.

3

Encouraging staff to wash and sanitize their hands regularly.

4

Installing plastic curtains at the checkout counter to prevent droplet dispersal.

5

Regularly sanitizing equipment frequently touched by customers.

6

Use of coin trays to avoid contact.

7

Installing markers on the floor to enforce social distancing at the checkout line.

8

Keeping the entrance open for ventilation.

*Measures may vary by stores depending on the weather and temperature.
*Measures may vary by stores / regions.
Requests to Our Customers
The following measures are based on Guidelines for preventing the spread of Novel Coronavirus in retail stores issued by the Ministry of Health, Labour and Welfare, Japan .
1

Please sanitize your hands before entering.

2

Please maintain social distancing.

3

If possible, please wear masks when visiting our stores.

*We do not refuse entry to customers wearing masks.

4

If you have symptoms, such as fever, please refrain from entering the store.
*Measures may vary by stores / regions.
Measures during Product Manufacturing and Delivery
At FamilyMart, to ensure our customers can always shop without worry, we conduct thorough quality control during manufacturing and delivering our original ready-to-eat products.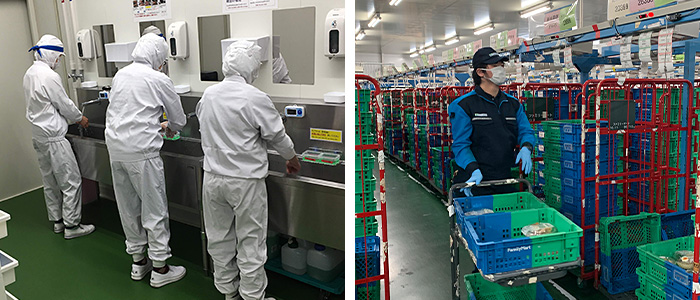 Donations and Relief Supplies
1Accepting donations for combating COVID-19 (Reception has been closed)
Donations accepted: April 14 - July 7, 2020
Recipients:
COVID-19 Outbreak Emergency Relief Fund, The Nippon Foundation
The Red Feather's Welfare Activity Support under the COVID-19 Outbreak Nationwide Campaign, The Social Welfare Corporation Central Community Chest of Japan
*Donation boxes can be found beside checkout counters in all stores.
Other Notices
1

Response at FamilyMart's head office

・We will continue working to ensure stable supply of products and your convenience.
・Employees are limited to the minimum required to keep stores operating smoothly.

We are working closely with medical personnel working to contain the spread of COVID-19 in each region, as well as creating support projects for local communities.

3

Fun online content for kids during "STAY AT HOME"

We have released fun and educational online content, such as coloring pages, for children spending more time at home due to prolonged school closures and avoiding outings.
We will continue to monitor the situation, and remain in close contact with local communities and governments.