FamilyMart Basic Principles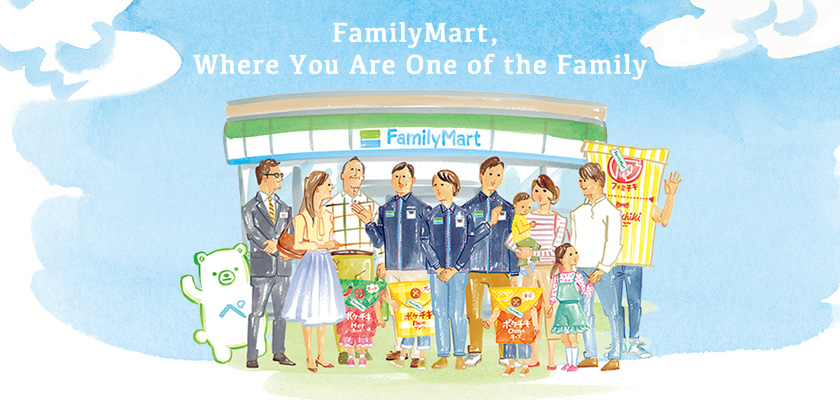 Corporate Message
FamilyMart, Where You Are One of the Family


あなたと、コンビに、ファミリーマート

We are a convenience store that calls ourselves "Family."
The name FamilyMart is both our origin and ideal.
Everyone from cashiers to the energetic store manager, should be connected like a family running a local store.
We want to be like a neighborhood family for customers.
Our name symbolizes this ideology.
That is why we need to pursue "Where You Are One of the Family" for the customers so customers will choose FamilyMart because
"You" are here.
Now is the time to think about the meaning of these words again.
What is the future of convenience stores, as a store and as a part of the social infrastructure?
We don't know yet but we need to be an essential place that co-exists with the neighborhood beyond convenience, for the happiness of the "Family."
FamilyMart, Where You Are One of the Family
Our Three Values
1.FamilyMart is a network of small local stores. Each store lives with and owes its existence to the people who live in the neighborhood. We will work earnestly to become a store that is rooted closely and evolves as an integral part of the local community.
2.We will do our best to meet the needs of each customer who visits our stores. Our stores will provide what the customers want, furthermore, discovery of exciting and high quality products. By doing so, the stores will be a place where people will stop by anytime.
3.We will foster close ties with business partners like a family running a small local store. We want customers to feel part of the neighborhood family. We will continue innovating towards comfortable lifestyle which will contribute not only to convenience but also to the wellness of everyone. We will commit to the pursuit of happiness of the "Family."
Employee Pledge
Moving forward together with franchised stores, we will remain close to local customers and make a happy future for everyone engaged in the "Family" business of FamilyMart.

Always work energetically with a positive and cheerful attitude. Develop a passion for work which will lead to personal growth. Let's recognize each other's individuality and strengths as we work.

How to exceed customer's and franchised store's expectations? How to make everyone happy? Do your best to keep an open mind to others needs.

After thinking thoroughly, do what you believe is correct. No matter how small a matter, do not be passive. Let's enjoy taking on challenges. Let's become a pro-active team in which we think for ourselves.

[Help Each Other Enhance]
Let's get closer to one another, speak with them, and find out what they are thinking. Let's become more supportive. Let's trust one another and perform our roles properly.

Let's be aware that our work today affects everyone's future. Let's be grateful to local communities and customers for our existence, and let's contribute to society by making honest efforts to realize the full potential of convenience stores.