Joint Growth between Franchised Stores and Headquarters
The FamilyMart Franchise System
FamilyMart has adopted a franchise system for its convenience store business. With the FamilyMart System, which the FamilyMart head office (hereinafter head office) owns, the franchisee and head office work together to enhance convenience and contribute to the local community by providing customers with affordable and convenient products and services. Prior to the franchised store opening, the head office provides training for store managers as well as training at directly managed stores, ensuring thorough preparations so that everything is in place and ready to go on opening day. In addition, even after the franchised store is up and running, a supervisor from the head office pays regular visits to provide backup – such as giving advice on the business plan or for bringing in new products – to help the store be successful.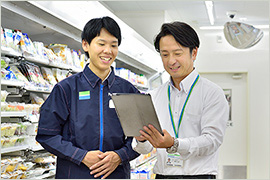 Supporting the Training of Store Staff
For FamilyMart to fulfil its duty to society and maximize its existence value, it needs to rely on the abilities of each and every store staff, as they are the ones who interact directly with the customers. We are working to improve the organizational structure within stores and store management levels by establishing a system of training human resources so store staff can work with a sense of pride. In our customers' eyes, 'quality' encapsulates both product quality and store quality. Refining both is the path to becoming the convenience store that customers choose to step into. Store staff, who are responsible for store quality, are engaged in daily operations with the foremost objective of improving QSC (Quality, Service, Cleanliness) levels.
Store Staff Total System
The Store Staff Total system is a human resources development system that aims to nurture independence and responsibility among store staff. With ranked trainings that improve skills, the system leads to facilitating self-growth.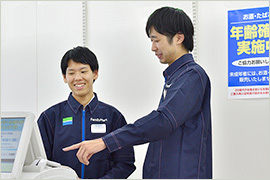 Human Resources Development System for Store Staff
There are approximately 200,000 store staff working at around 16,000 stores run by FamilyMart nationwide. The store staff are invaluable human resources who work on the frontlines of the stores, interacting with customers, organizing selling spaces, and cleaning and managing the stores on a daily basis. As a means of raising their motivation and making work worthwhile, FamilyMart has implemented a proprietary human resources development system known as the Store Staff Total (SST) system. Based on acquiring qualifications in stages, the system efficiently supports the development of store staff.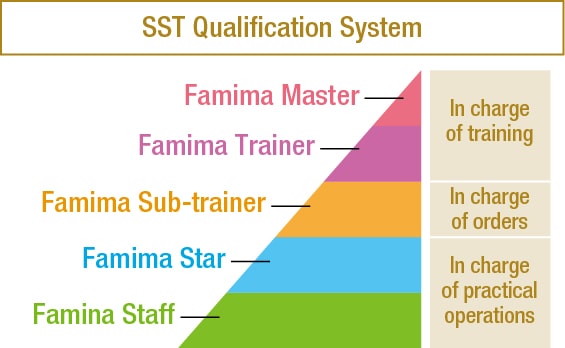 Crime Prevention System
In order to ensure the safety of our customers and store staff, FamilyMart has various crime prevention measures in place at stores. For example, rotating security beacon lights are installed at the entrance of stores and anti-crime color balls are always on hand near the cash register. Furthermore, in case of an emergency, a security company that we outsource will immediately send personnel to the store.
In addition, the company has formulated a list of "10 Ways to Prevent Crime" to enhance security. Four points among the list are designated key points and are strictly observed at all stores.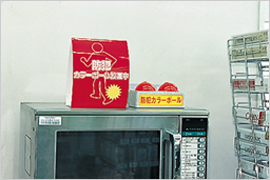 System of Mutual Insurance Aid for Franchisees
FamilyMart has established the System of Mutual Insurance Aid for Franchisees, available to store owners and managers so that they can focus on store management with an easy mind. The system is founded on mutual aid between franchisees and allows members to obtain medical insurance and various other types of insurance at low cost. We also introduce members to free, individual consulting services with an affiliated life counselor who can give advice on various topics such as providing employees with benefits or for preparing funds for livelihood in later stages of life.