With Our Business Partners
Fair Business
FamilyMart has established fundamental principles to ensure fair business and is committed to abiding by the Antimonopoly Act and other related laws as well as the Fair Trade Commission Notification No. 11. The company naturally holds periodic trainings on the topic of fair trade for employees in charge of conducting business, and a system is in place for employees to read up on the Antimonopoly Act and the Subcontract Act at any time on the company's notice board, which has a page on "Guidelines to Fair Trade." In addition, the Risk Management & Compliance Committee has established a subcommittee dedicated to matters of compliance, which strictly sees that all employees abide by the laws and principles.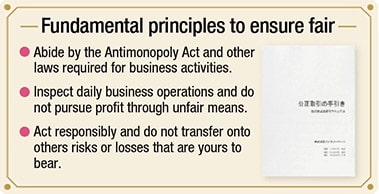 Cooperative Relationships
As part of our efforts to ensure safety and reliability, we invite our business partners to send their quality control managers to the National Quality Management Conference, which we hold once every two months. These meetings are used to share information and know-how, such as going over advice for quality and hygiene management, presenting case studies from each plant and holding seminars by external lecturers. Such information is then utilized to enhance self-management.
In addition, we conduct advanced inspections of FamilyMart collection products, a private brand launched in FY 2012. Their labels and the plants where they are made are inspected and only those that meet the criteria are permitted to be released.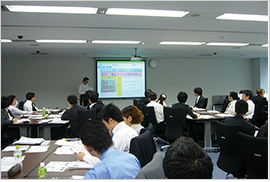 Seminar by an external lecturer at the National Quality Management Conference