Embracing True Diversity
In addition to women, which have been the main target of our efforts, we have expanded the scope of our initiatives to include those with disabilities, people with foreign nationalities, and members of the LGBT community as a means to embrace true diversity. In this way, we are constantly thinking about inclusion, the next step after diversity.
Promotion of Women's Participation
FamilyMart aims to operate convenience stores loved by a variety of people by getting close to local communities and treating each and every people like part of a family. The strength of our female employees is crucial to this goal, therefore we consider promoting active roles for women to be an issue of the utmost importance. In that light, we are working to create conditions for female employees to put their abilities on display, which includes work style reforms that are applicable regardless of gender and fostering a culture focused on controlling unconscious bias.
Targets and Major Initiatives related to Women's Participation
1. Targets
Based on the Act on the Promotion of Women's Participation and Career Advancement in the Workplace, FamilyMart has formulated a general employer's action plan and set up targets up to the end of FY2020.

1) Make the ratio of female employees 20% (the ratio was 17.7% as of the end of February 2020)
2) Make the ratio of women in management 10% (the ratio was 4.8% as of the end of February 2020)

2. The Company Will Change. I Will Change as well. I Will Make the Changes

The Development of Good Leaders Diversity Training
Diversity Training
To develop managers who understand diversity, support subordinates' diverse workstyles and are capable of utilizing diverse strengths
October 2017:Diversity training for general managers and above
April 2018:Diversity management training for section managers
November 2018: Unconscious bias e-learning for all managers (including the management level) 
August 2019: Harassment prevention training for managers
Bottom-up
Development of Female supervisors (SVs) Role Models
To expand the areas for women's participation in sales and develop women supervisors (SVs), FamilyMart has been taking part in the New-generation Women in Sales College, a cross-industry project for the active participation of women in sales, since FY2017.
FamilyMart Women Project(FMWP)
In FY2017, bottom-up activities by women to promote the advancement of women were launched.
Enrichment of the Educational Structure
Pre-Career Design Seminar
Female employees in their third year of joining the Company participate in this seminar to obtain knowledge related to designing a career from an early stage and create a mental image of medium-term growth.
Women Development Training Plan
Female employees who are candidates for management positions are dispatched to joint cross-industry training held externally.
Life & Career Design College
Training carried out for men and women returning to work from childcare leave. It helps remove anxiety related to returning to work as well as teaches mindsets for balancing both childcare and work after returning to work.
FMWP (FamilyMart Women Project)
In regard to diversity enhancement efforts, which began in 2017, FamilyMart positioned the promotion of women's participation as a touchstone of related efforts. The company began by focusing on creating a company in which women are able to shine. FMWP is a bottom-up activity by women for the advancement of women. Its goals are self-growth and transformation, networking, and the growth and transformation of the company.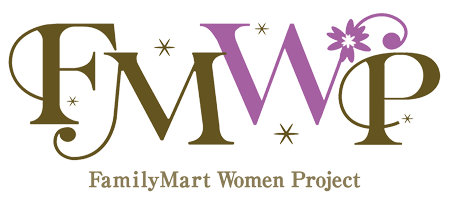 Winner of the Award for Excellence in the 3rd Working Women Empowerment Award (April 2018)
The Working Women Empowerment Award, hosted by the Japan Productivity Center, aims to improve the productivity of organizations through promotion of the participation of women. It awards organizations that carry out original, creative initiatives.
FamilyMart won the Award for Excellence in recognition of the promotion of women to management positions by its top leaders, and the achievement of new workstyles through bottom-up efforts.
[Outline of Efforts]
- A Diversity Promotion Committee consisting of top executives was established. Key performance indicators were set up and are being promoted as managerial strategies. Top executives communicate their passion toward these efforts to employees through a relay of articles written by the management team.
- Women try to solve the issues found in their own departments and divisions through bottom-up efforts. Proposals, such as conference meeting reform, concentration time, and simulated experience as moms, dads and caregivers, are made. Demonstration tests are implemented.
- Hours worked per person in excess of prescribed hours have fallen by about a third since the level of such hours worked three years ago.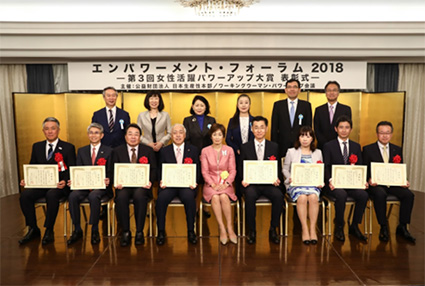 Companies that won awards in the 3rd Working Women Empowerment Award
Figures related to Women's Participation
* As of the end of February of the respective fiscal year
Active Participation of People with Disabilities
In addition to proactively hiring people with disabilities, we are also expanding the work that they can engage in, such as at directly managed stores, farms and the head office. Careful individual follow-up is provided as needed, and if necessary, we strengthen our collaboration with support organizations to create a workplace where people with disabilities can work feeling safe and secure. At the head office, there are employees with disabilities playing an active role in management-level positions.In 2019, we also held work supporter training for people with mental and developmental disabilities.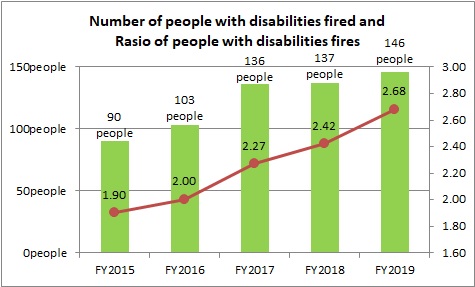 * As of June 1 of each respective fiscal year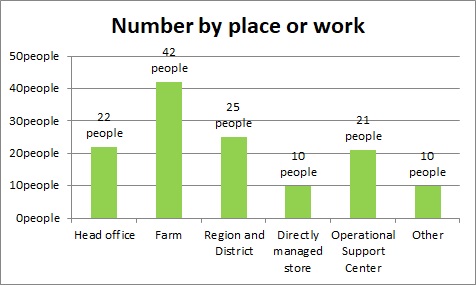 * As of the end of February 2020

I have a hearing impairment. It is not congenital. My symptoms got worse in my early 30s, and I could no longer hear what customers were saying, so I had no choice but to give up running a store, which I had been doing up to then.
I attended an explanatory meeting hosted by FamilyMart at the National Rehabilitation Center for Persons with Disabilities and was surprised to learn that they were looking to hire a store manager. I had assumed, based on my own bitter experience, that it was difficult for a person with a disability to work at a store. However, hearing about the opening really motivated me, and I felt that it was a chance for me to try again. At the same time, I realized how much I missed doing work that dealt with customers.
Right now, I'm focusing on communicating with the people around me and creating a store that makes customers happy.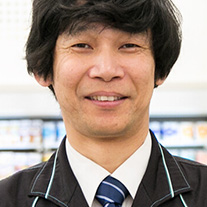 Yoshiya Akiyama
Tokyo International Forum Store
The 2nd Operation Department(East Japan)
Operational Support Center
The Operational Support Center was established at the head office, and a standard operation extracted from each department is being handled by employees with disabilities according to the nature of their impairment. In FY2019, the Operational Support Group was established within the CSR & General Affairs Department to provide support to members.
The places where people with disabilities can play an active role as well as enhance their skills were thus expanded. An additional benefit to each department is that it leads to the improvement of operational efficiency.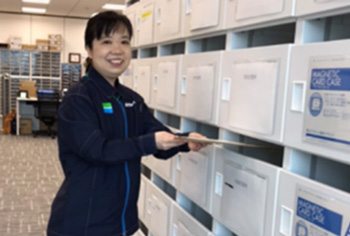 I had studied how to use Office software like MS Excel very hard before I became employed, and it paid off since it is proving very useful in my present work. I sometimes feel that it is demanding, with a lot of work to do, but I feel that it's worth it when I think about how it is making someone's workload lighter. Hearing words of appreciation from the person in charge is the best reward that I can get. I am grateful that I have overcome my illness and am able to work, move my body and work up a sweat. Going forward, I hope to continue communicating with my colleagues and others, handle each job with care, gain people's trust, and move forward, step by step.
Yoko Takarabe
General Affairs Department
Management Division

I am currently the manager in charge of operational support and hiring for people with disabilities in the agricultural section. The conditions we have here, which allow for members to actively put their individual talents to use, have brought about changes within the Company. For example, work that had previously been outsourced has been given to the members of operational support. This brings the work back in-house and takes some of the workload off of each department, and so has served as an opportunity for us to revise our working styles and increase efficiency. Some members of the team are using the opportunity to polish their skills and improve their position in the Company. Every day I get to see and feel the determination and growth in my team members as they put full force into their work—I see it in me as well. A company that is easy for employees with disabilities to work for is also a company that is easy for employees without disabilities to work for. Likewise, I would say that ideas that help employees with disabilities play an active role are ideas that help every employee play active role.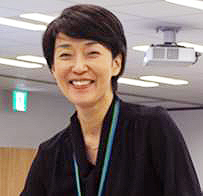 Waka Kitahara
Business Support Group Manager
General Affairs
Department
Management Division
Active Participation of Employees of Foreign Nationalities
FamilyMart conducts open recruitment activities regardless of nationality.
After joining the Company, they are assigned to work that matches their individual capabilities. At the same time, the company offers language training as well as business skills training.
Every division has a foundation of accepting people of different nationalities as part of the diversity at FamilyMart. Foreign nationals are playing an active role as supervisors (SVs) or as staff members at corporate headquarters in various departments.
Number of Foreign National Employees Hired as New University Graduates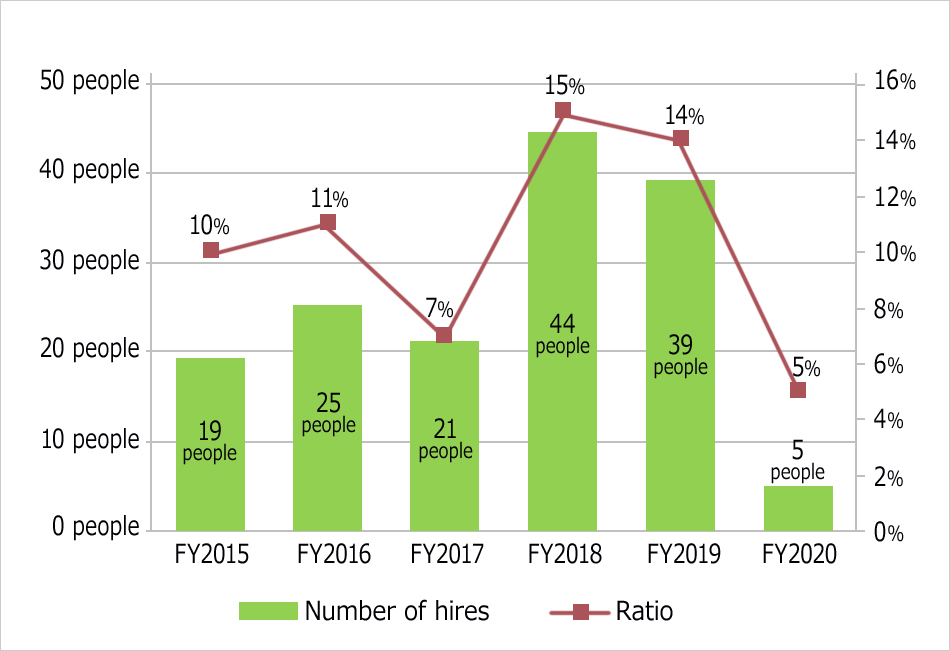 * For FY2020, the number who joined the Company in April
Number of Foreign National Full-time Employees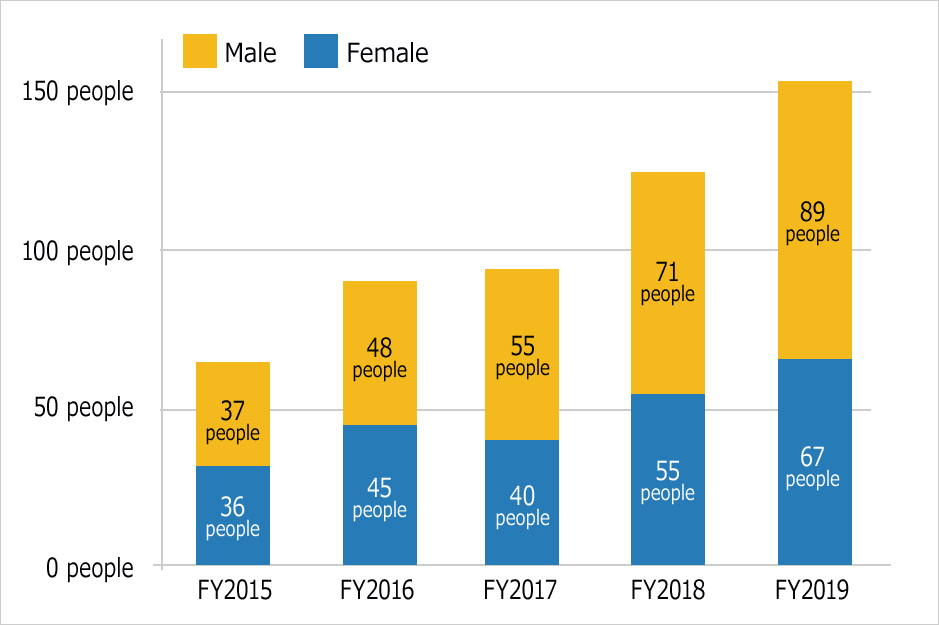 * As of the end of February of the respective fiscal year

I was born in China. Now I'm supervisor at a store near one of the venues for the Olympics. My particular specialty is my insight as a Chinese person and my ability to collect inbound information. Since roughly 2017, demand for inbound travel has gone up due to an increase in Chinese tourists, and I have made the most of this specialty to provide as response to this inbound increase. My actions have contributed to sales.
At the same time, I thought to myself, "Just my abilities alone aren't good enough," and "I want to provide even more inbound information to the Company and franchised stores and help increase sales" so I used social media to set up a community of Chinese employees with the hope of collecting information and ideas. With the help of my supervisor and other departments within the Company, the community now has about 100 members. While it does offer inbound information and exchange opinions, it is also used to help solve issues at work or to discuss worries about life in Japan. In the future, I want to provide more meaningful information to the company and to franchise stores in preparation for the Olympics, and to improve sales.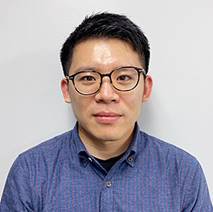 Karin Cho
Supervisor (SV)
East Tokyo Region
East Japan Area Division

"I want to be a bridge between Japan and China." I remember my motivation to join the Company, even now. While I don't think I'm that bridge just yet, over the seven years I have spent with FamilyMart have allowed me to grow a great deal personally.
When I work, I think to myself that the greatest joy is helping those around me, and it's been that way ever since I first joined the Company. After working at a store, I worked in the overseas business department, and I also worked for four and half years as a supervisor. No matter what the work, I found it extremely rewarding. Since March 2020, I have been involved in human resource development, which I see as a new opportunity! In the future, I will continue to value my connections with people and I think I should be improving my skill while learning more and more.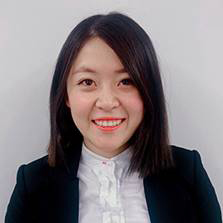 Kasei Shu
Human Resources Recruiting&
Development
Department
Management Division
LGBT Initiatives
At FamilyMart, we are implementing LGBT initiatives aimed at fostering understanding and acceptance of every individual employee's diversity, and at rooting this deeply within our corporate culture.
Our efforts are focused on two key areas: 1.Cultivating correct knowledge and understanding, and 2. Creating safe and inclusive workplace environments.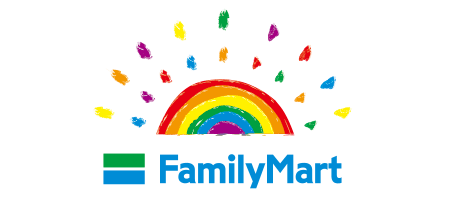 This symbol is used to represent FamilyMart's LGBT activities.

It embodies the concept of "Ally rings spreading out like the rays of the sun from FamilyMart."

(1) Cultivating correct knowledge and understanding
By learning about LGBT, employees realize that each and every colleague is unique in many ways. Thus, "Proper understanding of LGBT" is our first goal.
■Video lessons and LGBT-related handbooks are distributed to all employees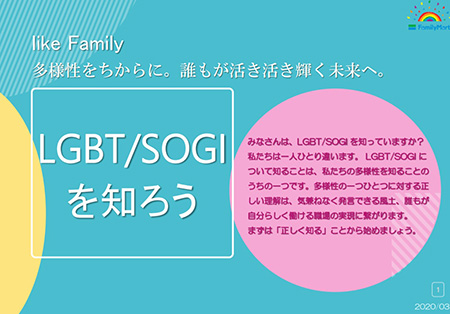 ■ Dissemination of LGBT-related news to all employees
■ Holding of an LGBT seminar
Approximately 120 people took part in the seminar, including representatives from each department.
The key point made during the seminar was the need to take gender self-identification as the starting point for thinking about LGBT issues. Participants learned about the importance of being aware of one's own biases when taking any kind of action from the stories of people directly affected by this issue.
(2) Creating safe and inclusive workplace environments.
Once employees' understanding and knowledge of LGBT issues has been deepened, the next step is the implementation of measures to cultivate LGBT Allies. We are encouraging every individual employee to think about what they can do to create workplaces where everyone can be themselves, as well as what they can to in relation to franchisees and customers, and to take action and realize our vision.
■ LGBT Ally activities
We are working to cultivate a corporate ethos in which people who want to understand and support their LGBT colleagues are encouraged to declare this, so that as these "rings" of support spread outwards, the psychological sense of safety within the organization is enhanced, and people feel able to speak their mind without hesitation.
Distribution of ALLY stickers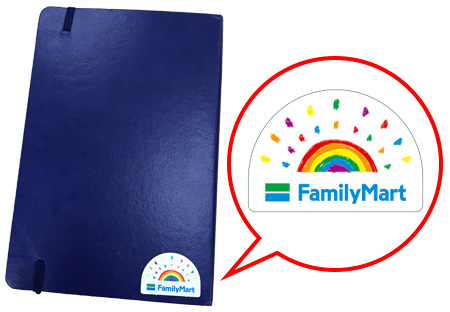 Stickers bearing this special symbol are distributed to those employees who have acquired an understanding of LGBT issues and wish to announce their status as an LGBT Ally.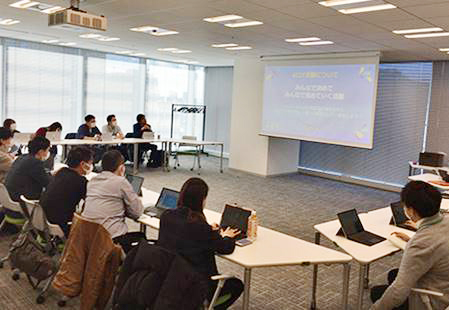 After the seminar was held, participants were offered a chance to join the ALLY program. In total 43 people have joined from across the country (as of April 2020).
Going forward we will expand member-focused activities to promote understanding throughout the Company.
■ Establishment of an LGBT consultation window
(this is an external contact window that is available for FamilyMart employees to use)