Management Approach
Global warming attributed to higher human emissions of carbon dioxide and other greenhouse gases (GHGs) has been linked to more frequent and intense extreme weather conditions around the world. The risks associated with climate change could have a significant impact not only on our daily lives and corporate activities but also on future generations, demanding even further corporate initiatives.
Most of our GHG emissions come from energy use in our stores. We will contribute to achieve a decarbonized society by actively using renewable energy in addition to thoroughly promoting energy conservation in our stores.
We will also take appropriate measures to deal with climate change and proactively disclose information.
Product Initiatives
Use of Plant-derived Biomass Plastic Containers with Environmentally Friendly Designs
Since April 2007, the Plant-derived biomass plastic (PLA) is used for the containers of our mainstay salad products.
Using PLA containers does not increase the amount of CO₂ in the atmosphere because the amount of CO₂ used by the source plants for photosynthesis is nearly the same as the amount of CO₂ used to dispose of the containers. We were able to reduce approximately 2,402 tons of CO₂ per year compared to oil-based plastics (A-PET containers).
We are working to further reduce our CO₂ footprint by using recycled PET materials made from used PET bottles for the containers of our chilled noodles.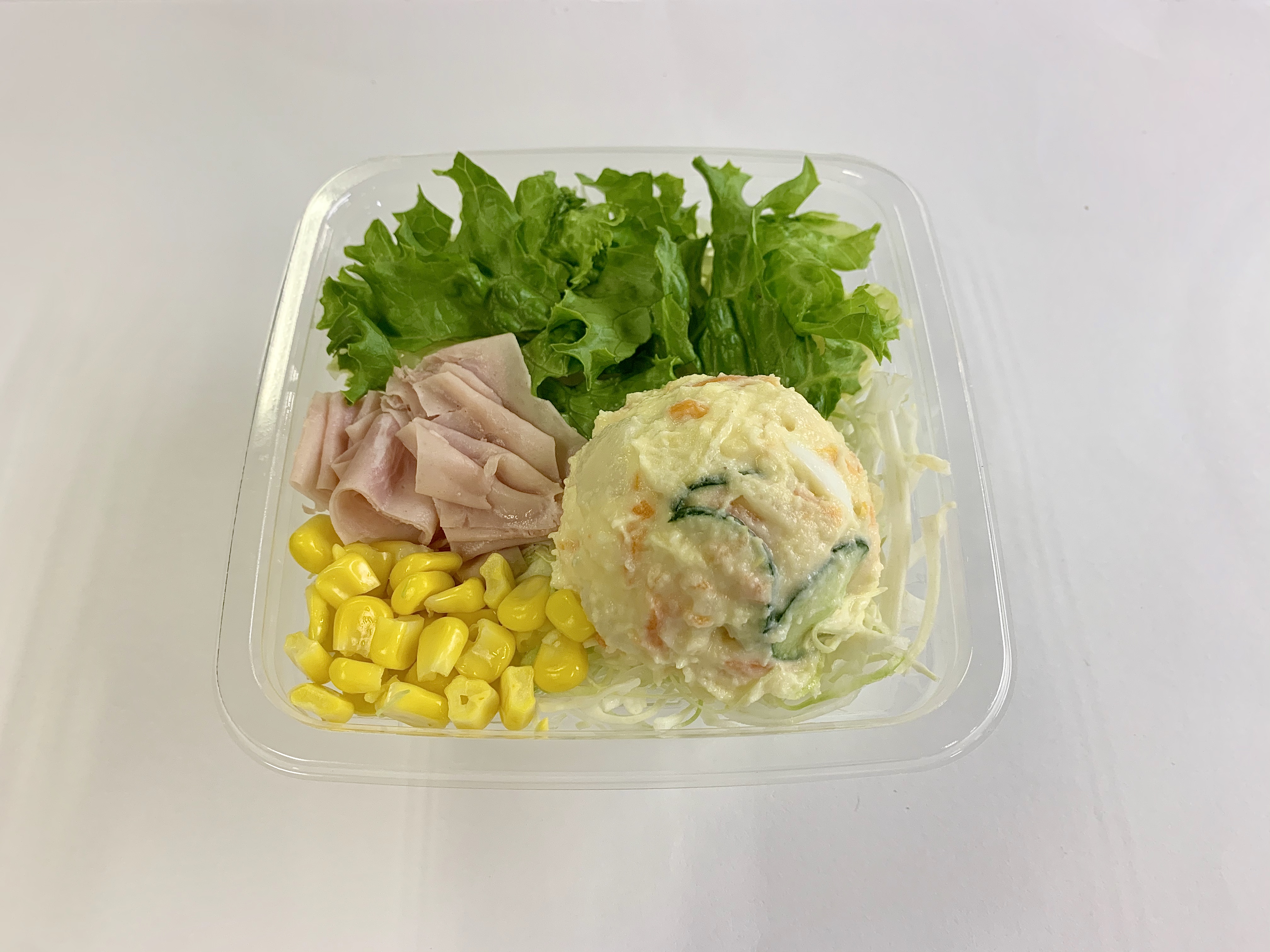 CO₂ reduced by approximately 2,402 tons.
Environmental Circulation of Biomass Plastics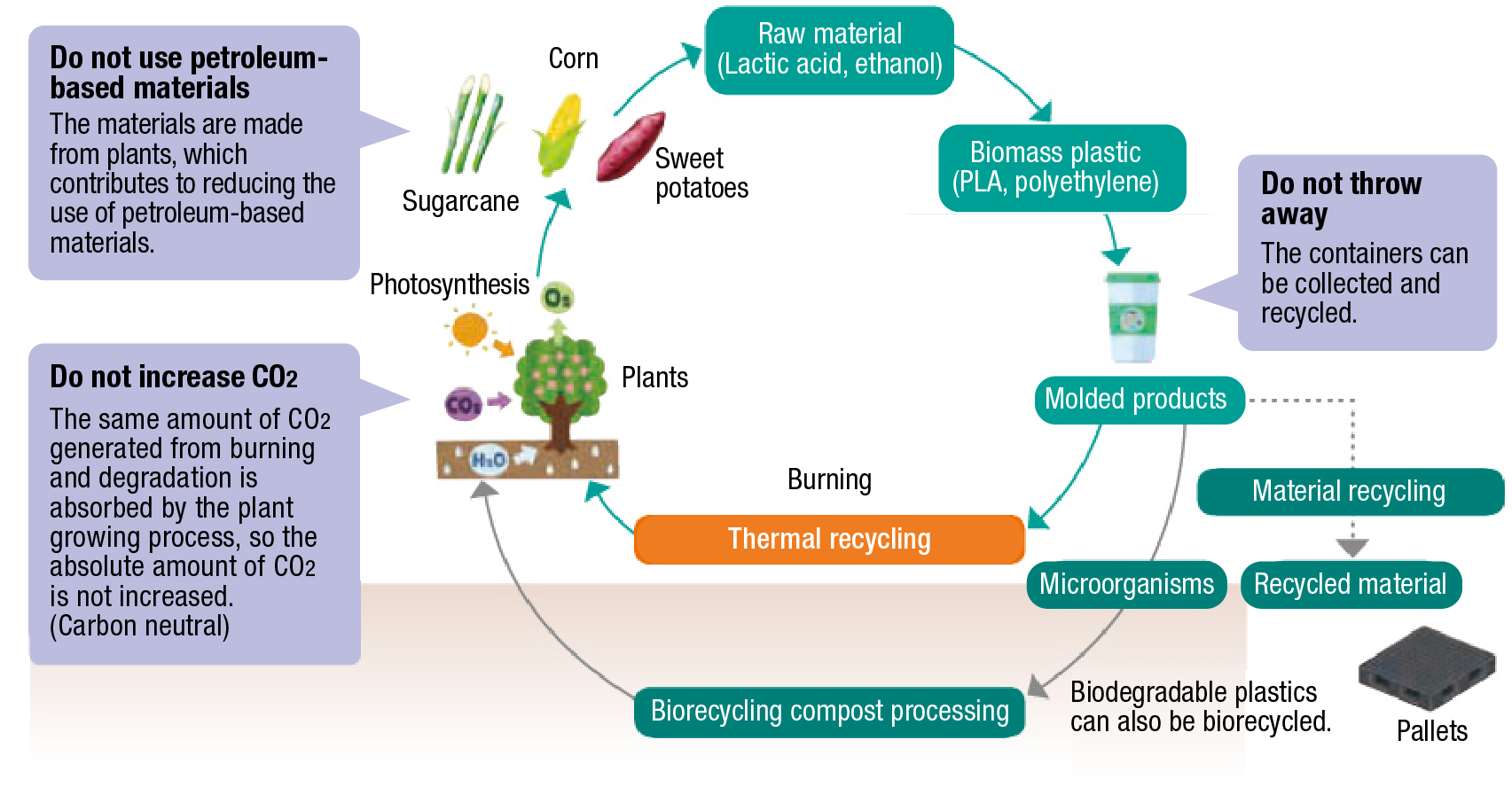 Switching to Side Shrink Packaging
Prepared lunchbox containers and wrappings conventionally used "full shrink packaging" where the entire lunchbox was wrapped. In February 2014, we began using "side shrink packaging" that only adheres film to the area where the lid joins the container. We comprehensively switched to this method in February 2015.
This reduced the amount of plastic material used by 541 tons; resulting in a CO₂ reduction of 1,934 tons (compared with conventional wrapping film). Side shrink packaging also has the advantages of making it easier to see the product and being easier for everyone from the elderly to children to open.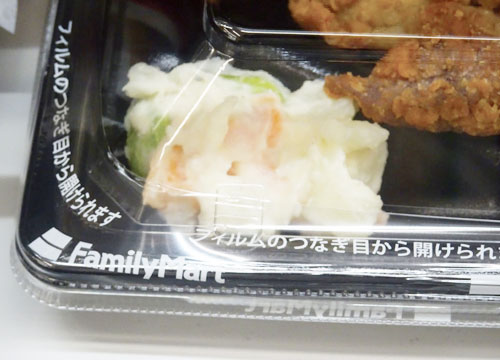 Distribution Initiatives
Use of Low-polluting, Low-fuel Consumption Vehicles
FamilyMart has been actively working to implement low-pollution vehicles such as Compressed Natural Gas (CNG) and hybrid vehicles.
Today, we comprehensively use fuel-efficient clean-diesel vehicles that clear the latest exhaust gas regulations and plan to replace all delivery vehicles by 2025. At the same time, we are introducing electric vehicles (EVs) and fuel cell vehicles (FCVs), and conducting demonstration experiments using fuels derived from renewable resources.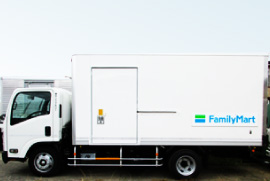 Ongoing introduction of clean-diesel vehicles from September 2019
Simultaneous Shipping of Chilled and Fixed Temperature Products
FamilyMart uses dual-compartment refrigerated trucks in which chilled products (kept at 3℃ to 8℃), such as desserts and lunch boxes, and fixed temperature products (kept at 18℃ to 22℃) such as prepared lunches and bread, can be loaded at the same time to improve delivery efficiency and reduce the number of vehicles used. We are also reducing the number of vehicles by consolidating products at distribution centers and building a joint delivery system for temperature-controlled loads for batch delivery to stores.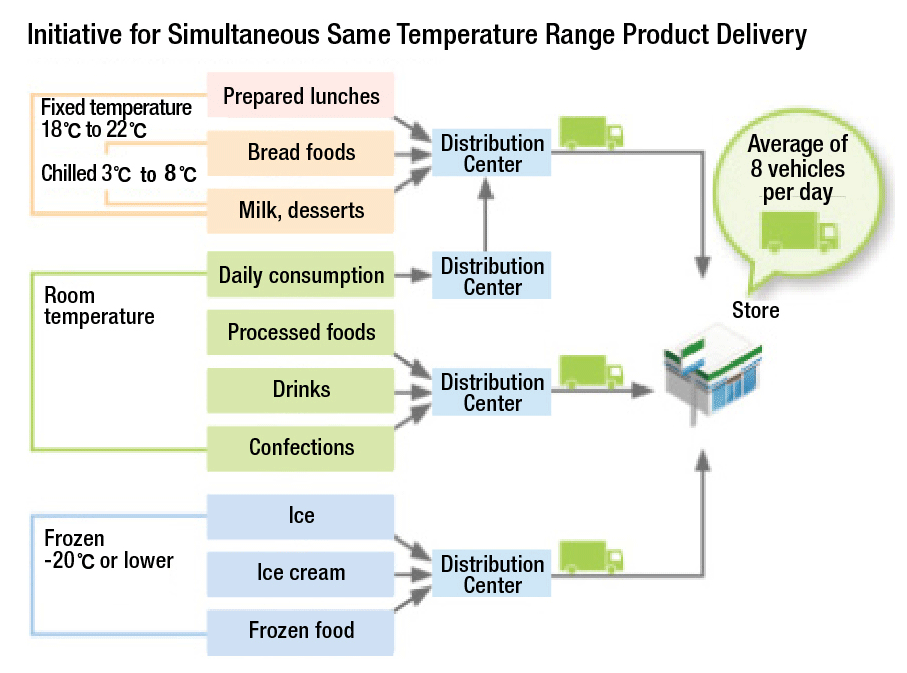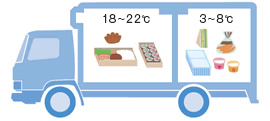 The temperatures in the front and back compartments can be set for their respective products and the space used for each compartment can be adjusted to match the amount of freight being loaded.
Eco-Drive Management System
Since fiscal 2009, FamilyMart delivery vehicles have been equipped with an eco-drive management system (EMS). EMS monitors the driving status of each driver, not only in terms of mileage, fuel consumption and speed, but also for idling, sudden starts, and rapid accelerations. This information helps avoid driving that produces unnecessary exhaust gas. Driving method improvements and guidance based on EMS data help promote eco-driving (lowered CO₂ emissions) and safe driving.

Next-generation Delivery Management System
Store Operation Initiatives
Initiatives to Improve Store Operations
Store staff conscientiously turn the store power switches off/on and regularly clean equipment filters.
The 10 Power-Saving Points that can be done by stores are used to make store staff aware of costs. Power-saving points change according to the season.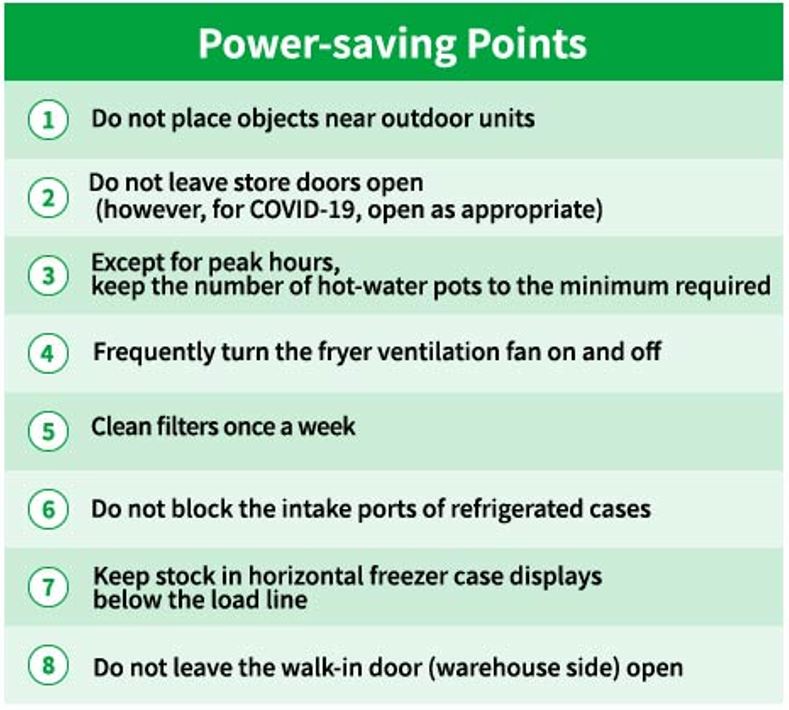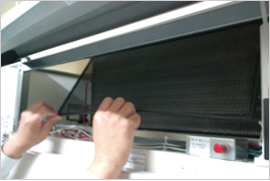 Filter cleaning
Solar Power Generation Initiative
We are promoting the active adoption of renewable energy by installing solar panels on store roofs, thereby making use of store infrastructure. Existing solar installations are now in the process of being switched from sell-to-grid to self-consumption, and new self-consumption solar installations are being introduced.
Solar panels
In-store LED lighting
We began converting the lighting in our stores to LED in November 2011. We also installed dimming systems that divide the store interior into 5 zones and automatically adjust the brightness in the respective zones. This both improves comfort and conserves energy by, for example, fine tuning the lighting to reduce the brightness of the fluorescent lights when sunlight is coming in and adjusting for differences between daytime and nighttime.
LED signs
In 2004, FamilyMart was the first convenience store to install facade signs that use LED lights. Since then we have increased the number of stores installed with these signs and have conducted technical development and verification testing to achieve even more energy efficient LED signs. Currently, we have achieved energy savings of approximately 70% compared to conventional fluorescent light signs.
Energy efficient parking lot lighting
Installation of LED lighting for our parking lots began in February 2013. The power consumption was decreased to 80w from 245w for the ceramic halide lamps installed since 2008. The useful life of the lights also increased from 15,000 hours to 60,000 hours.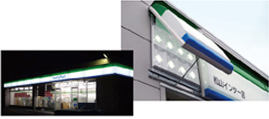 Installed at the Matsuyama Interchange Store in 2004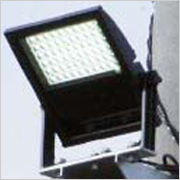 LED parking lot lighting
Quick Charger for Electric Vehicles
Electric vehicles that do not emit CO₂ while traveling have gained attention as environmentally friendly automobiles and their use is increasingly annually. However, there are not enough places to charge these vehicles. To allow electric vehicles to be used without the worry of running out of power, FamilyMart is moving forward with the installation of quick chargers for electric vehicles in its store parking lots.
As of the end of April 2021, the number of installations is approximately 700 stores.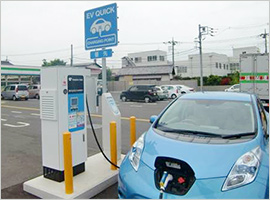 Installation of electric vehicle quick chargers
Fluorocarbon Gases
Since FamilyMart uses fluorocarbon substitutes for its in-store refrigerating, freezing, and air conditioning equipment, we carry out equipment inspections in accordance with laws for preventing the release of fluorocarbons into the atmosphere. Additionally, when disposing of equipment, we outsource the processing to a fluorocarbon collection company and work to thoroughly manage the collection and destruction process. We are also introducing freezers and refrigerators that use CO₂ refrigerants, which simultaneously reduces both energy-derived CO₂ emissions and fluorocarbon emissions.
Supply Chain Initiatives
Management of CO₂ Emissions in the Supply Chain
The burden on the environment of greenhouse gases is affected by every step of the supply chain from raw materials procurement, product production, distribution, and sales to disposal and recycling in addition to things that can be directly controlled by FamilyMart. To evaluate the environmental impact of our operations, we calculate the CO₂ emissions for the entire supply chain (Scope 3) in accordance with the Ministry of the Environment's "Basic Guidelines on Accounting for Greenhouse Gas Emissions Throughout the Supply Chain (Ver. 2.4)".
Going forward FamilyMart will work to improve the accuracy of data collection, expand the scope covered by our calculations, analyze the calculations, and reduce the amount of CO₂ emissions for the entire supply chain.
What is the Supply Chain CO₂ Emissions Quantity?
This is the amount of emissions for the business' own operations and those of related business activities.
Supply Chain CO₂ Emissions Quantity
Direct emissions of greenhouse gases, such as through the use of fuel in the business' own operations (e.g.: gasoline used by company-owned vehicles)
Indirect emissions of greenhouse gases, such as through the use of electricity provided by other companies (e.g.: electricity used at the head office, offices, and stores)
Indirect emissions of greenhouse gases as a result of business activities that do not fall under Scopes 1 or 2
Note: Calculated based on the Database for Emission Factors in Calculating Corporate Greenhouse Gas Emissions Throughout the Supply Chain (Ver. 3.2) issued by the Ministry of the Environment.
Ministry of the Environment's Green Value Chain Platform: Reference materials for calculation.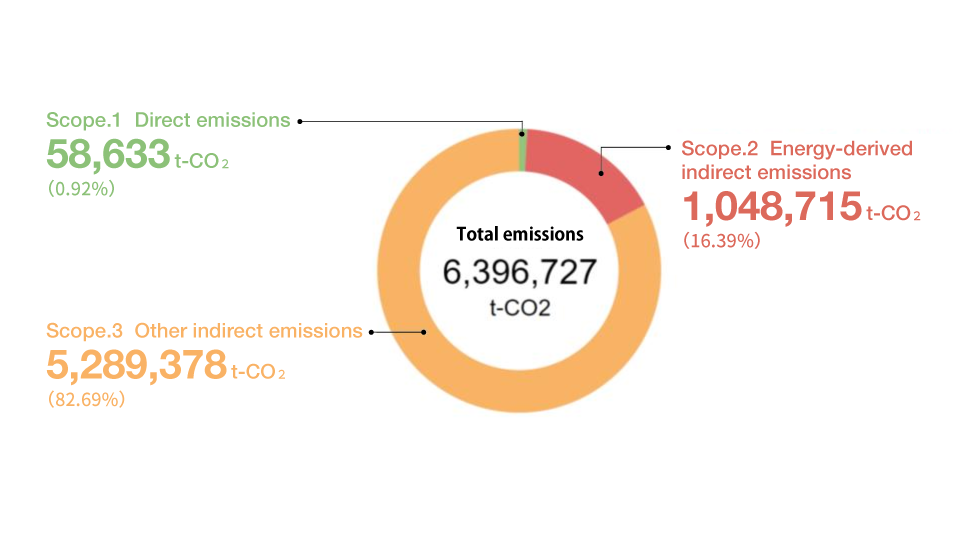 Fiscal 2021 Emissions of Greenhouse Gases by Category
| Scope and Category | CO₂ emissions | Percentage |
| --- | --- | --- |
| SCOPE.1 Direct emissions | 58,633 | 0.92% |
| SCOPE.2 Energy-derived indirect emissions | 1,048,715 | 16.39% |
| SCOPE.3 Other indirect emissions | 5,289,378 | 82.69% |
| Category 1 Purchased products/services | 4,750,429 | 74.26% |
| Category 2 Capital goods | 67,817 | 1.06% |
| Category 3 Fuel- and energy-related activities not included in Scope 1 or 2 | 166,449 | 2.60% |
| Category 4 Upstream transportation and distribution | 101,681 | 1.59% |
| Category 5 Waste generated in operations | 196,465 | 3.07% |
| Category 6 Business travel | 1,050 | 0.02% |
| Category 7 Employee commuting | 1,234 | 0.02% |
| Category 11 Use of sold products | 375 | 0.01% |
| Category 12 End-of-life treatment of sold products | 3,878 | 0.06% |
| Total | 6,396,727 | 100% |
Third-party Verification
FamilyMart has received third-party verification to correctly evaluate and verify the supply chain emissions quantity (Scopes 1 to 3) calculation results.
The greenhouse gas emissions quantity verification for fiscal 2021 was conducted by the Japan Audit and Certification Organization for Environment and Quality (JACO). The results of this audit showed that the CO₂ emissions quantity for all stores of officers in Japan and the refrigerant HFC emission quantity for stores were 50,603 tons for Scope 1, 1,078,013 tons for Scope 2, and 5,253,305 tons for Scope 3.
Based on these third-party verification results we will continue to improve the accuracy of published figures and increase the level of trust both inside and outside the company.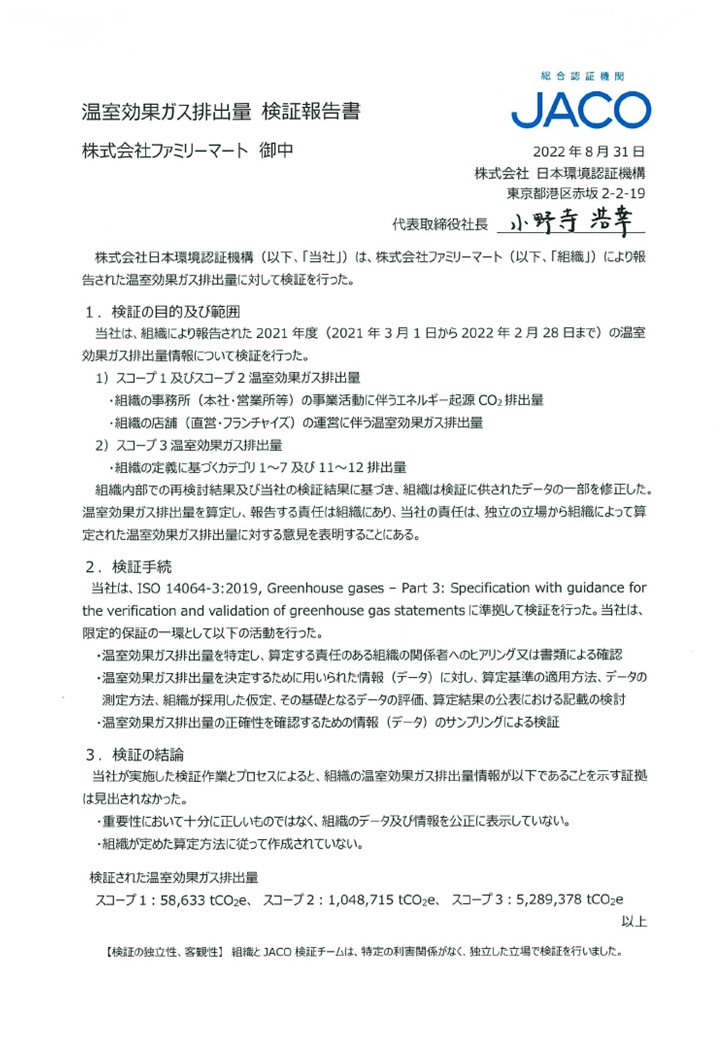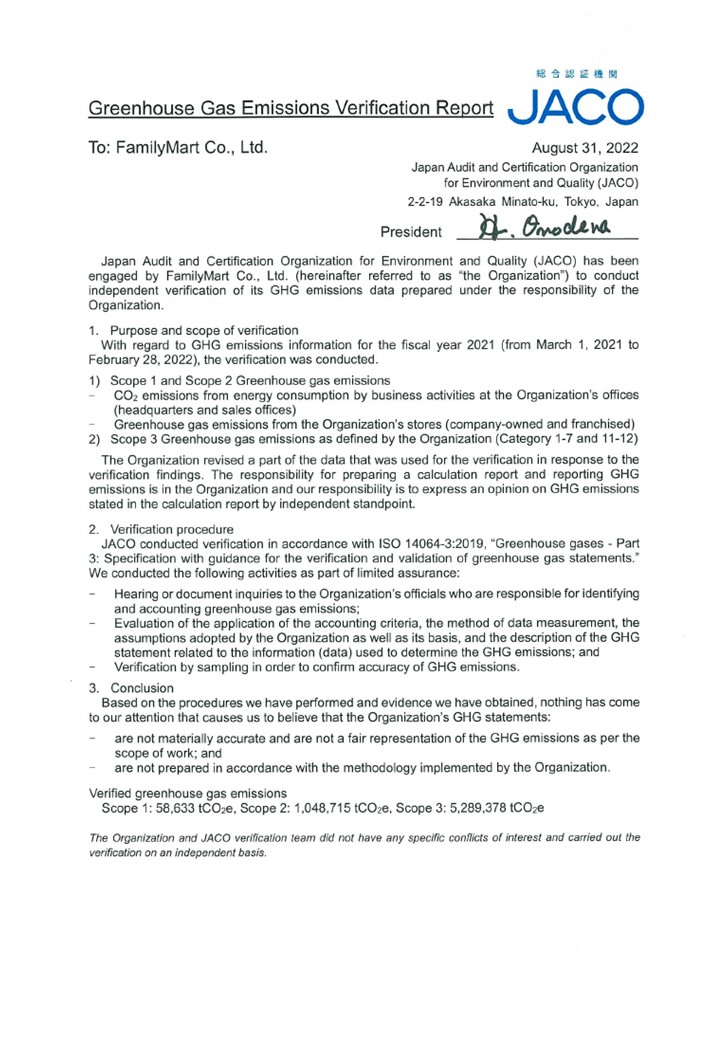 Science-Based Targets (SBT) Certification
In contrast to limiting the global temperature rise to 2°C as targeted by the Paris Agreement, FamilyMart's greenhouse gas reduction targets are certified by the Science-Based Targets (SBT) Initiative*, which recognizes science-based targets aimed at well below 2°C.
*A joint initiative by CDP (an international NGO), the UN Global Compact, the World Resources Institute (WRI), and the World Wide Fund for Nature (WFF). It advocates setting science-based GHG emission reduction targets to prevent the global average temperature rise due to climate change from exceeding 2°C above pre-industrial levels.
Certified greenhouse gas reduction goals
Scope 1 + 2: 30% reduction by 2030 (compared with 2018)
Scope 3: 15% reduction by 2030 (compared with 2018)
Note:
Scope 1: Direct emissions from fuel use in-house
Scope 2: Indirect emissions from the use of heat and electricity purchased by the company
Scope 3: Supply chain emissions of corporate activities outside Scope 1 and Scope 2 (FamilyMart's Scope 3 targets are for Category 1–Purchased goods and services)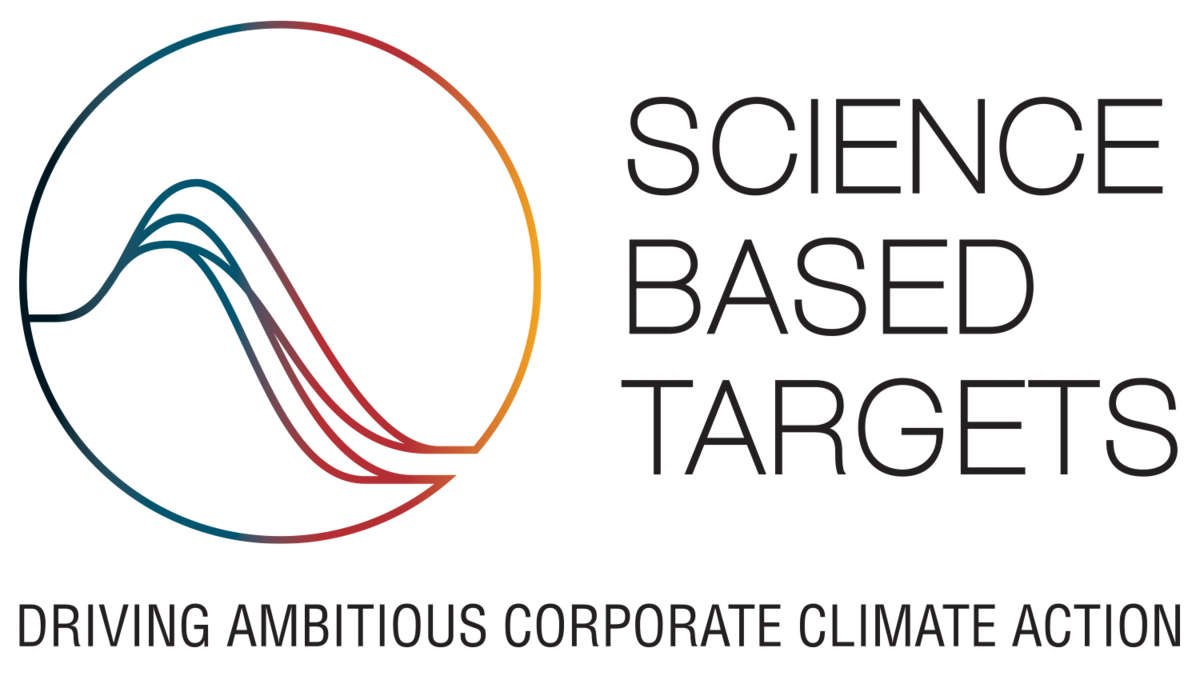 Endorsement of TCFD Recommendations
Task Force on Climate-related Financial Disclosures (TCFD) was launched by the Financial Stability Board (FSB) at the request of the G20 finance ministers and central bank governors.
TCFD considers how companies should disclose information on risks and opportunities associated with climate change and enables appropriate evaluation by investors, thereby ensuring correct capital allocation, efficient financial markets, and a sustainable and stable economy.
In February 2020, FamilyMart endorsed the intent of the TCFD's final report and discloses information on the four core elements of organizational management recommended by TCFD: Governance, Strategy, Risk Management, and Metrics and Targets.