Provision of High Added-value Products
Developing Ready-to-Eat Products That Support Health
With consumers becoming more health-conscious, we are boosting development of ready-to-eat products that support health. This development takes a unique "on/off" approach. The "on" side means products that bring something positive to the body, like vegetables, lactic acid bacteria, or dietary fiber. Products using whole grains or super barley, rich in minerals and dietary fiber, have become widely popular with consumers for providing both health benefits and a delicious taste. We are particularly expanding the use of super barley. Beginning with rice balls, we have been expanding use to sushi, sandwiches, and tortillas.
The "off" side to our approach, on the other hand, means taking out or reducing certain ingredients from existing products without impacting their flavor. Examples include low-carbohydrate and low-sodium foods. "Off" products require the development of advanced technology to balance the health benefits with taste. Because there is high demand among customers for these products, we are focusing particular efforts on developing them. Our boxed lunches developed under the supervision of a registered dietitian have been praised as health-conscious products that are good for the body and convenient to purchase. We also support customer health by selling delicious, low-carbohydrate products like salads, desserts, and cup noodles developed in collaboration with RIZAP GROUP, Inc., an operator of personal training gyms.
In the first half of fiscal 2019, we achieved our target of health-related products comprising 12% of ready-to-eat products sold. Therefore, we raised the target to 15% for the second half and have continued working to develop and provide those products.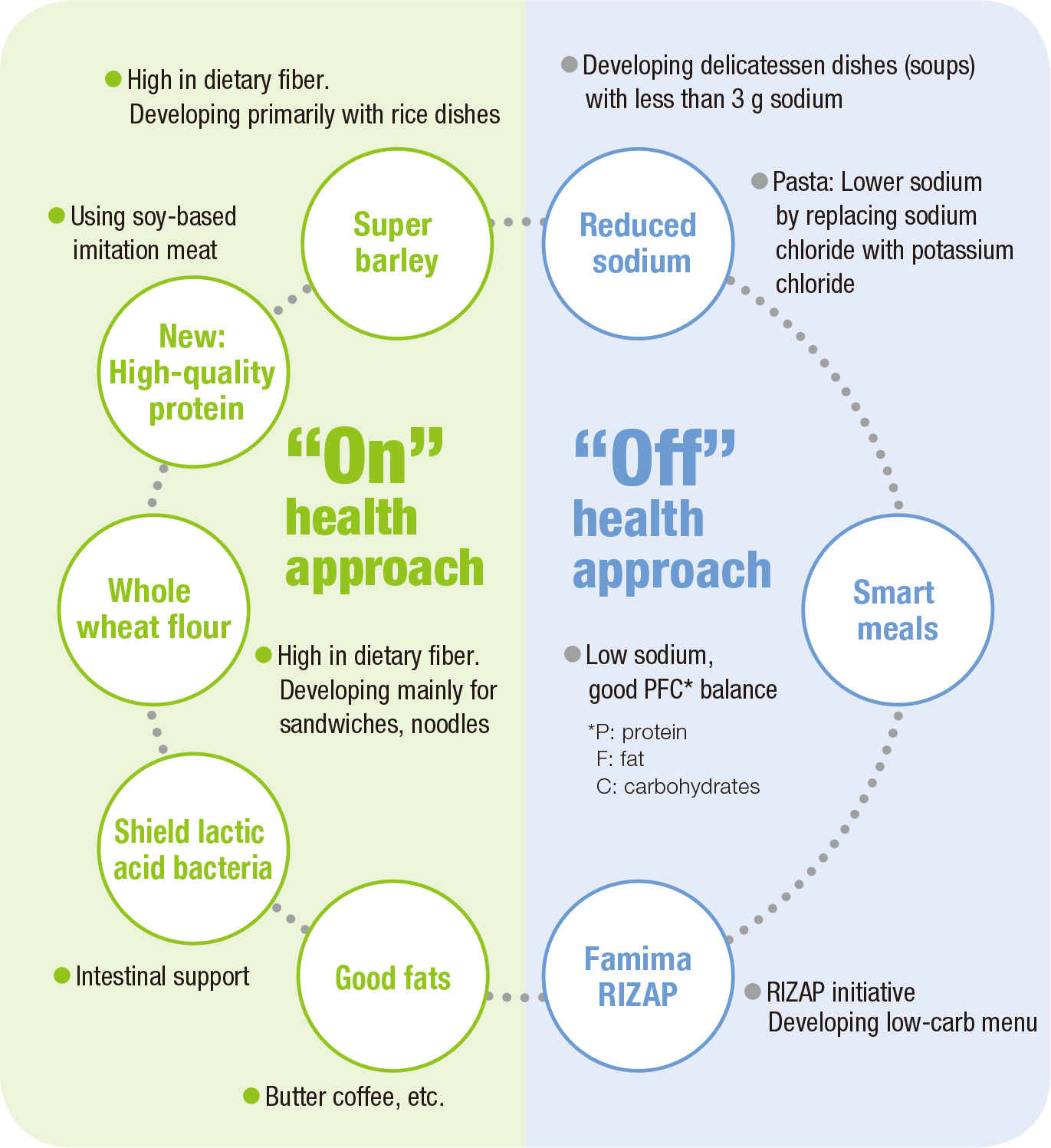 Cooked Rice Products with Super Barley
We became the first major convenience store to use super barley* in rice ball products in August 2017 in response to growing health awareness. Sales went full-scale in April 2018. When rice balls with super barley became a hit with customers, we expanded the use of super barley to boxed lunches in May 2018 and sushi in August 2018.
We develop these rice dishes (rice balls, boxed lunches, and sushi) with super barley under the concept that customers can keep consuming them day after day. Their popularity among not just health-conscious women but a wide range of ages (women in their 20s to 50s and men in their 40s to 50s) has pushed cumulative sales past the 100 million unit mark (as of September 30, 2019).
* Super barley: We use BARLEYmaxR, a non-genetically modified barley that contains high amounts of dietary fiber including two times more than normal barley, seven times more than brown rice, and 40 times more than white rice. It also is four times as resistant to digestion as resistant starch. Three types of dietary fiber—fructan, ß-glucan and resistant starch—resist digestion in the small intestine and then ferment in the large intestine, where they support healthful "good" bacteria.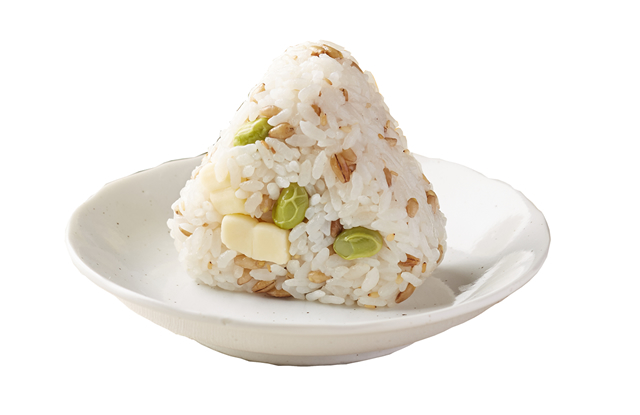 Rice ball using barley max
Smart Meal Certification
In August 2018, we became the first convenience store to obtain Smart Meal certification.* The certification specifically went to a grilled salmon boxed lunch, named Aburiyaki Shake Makunouchi Bento, sold by reservation only. Developed to taste great with less salt and provide plenty of vegetables, the meal was recognized for providing nutritional balance with healthy ingredients.
A second product has since earned the Smart Meal certification. Ajiwai Gozen is a boxed lunch made of nine dishes along with rice. The mix was praised for its balance of nutrients including carbohydrates, fat, and protein.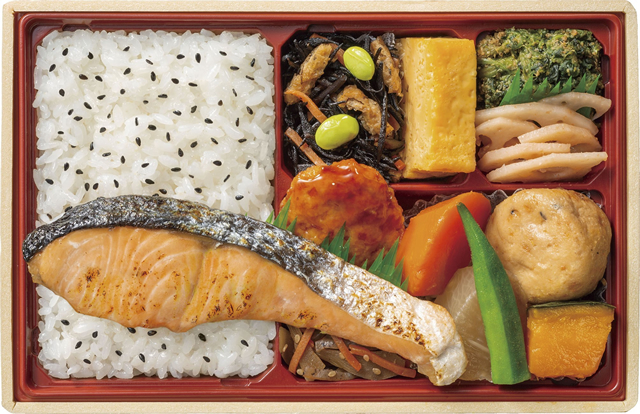 Box lunch by reservation with the Smart Meal certification
Medical Foods
With the aging of the population, increasing numbers of people are expected to require special consideration with regards to their food--for instance, having to watch their intake of sodium, protein, and sugar--in addition to a growing number of home care patients. In response, FamilyMart has developed medical foods, which are food products aimed towards those with special dietary needs, like those with diabetes or kidney disease. These products have been sold in stores inside of and near hospitals since 2015. We are also a supporting member of the Japan Dietetic Association and the Tokyo Dietetic Association, and have been certified by the Ministry of Agriculture, Forestry and Fisheries as to the use of the new "Smile Care" label to be used for identifying foods for home-care patients.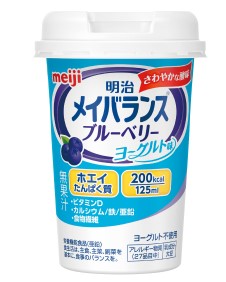 An example of the Medical Foods products
Winner of Gold Prize at JSH Reduced-Salt Food Products Awards
Our Reduced-Salt Japanese-Style Dressing in a small-pouch form sold separately from salads was awarded the Gold Prize at the Fifth JSH Reduced-Salt Food Products Awards* (sponsored by the Salt Reduction Committee of the Japanese Society of Hypertension). It was the first time for a convenience store to win the Gold Prize. Since its launch, many customers have come to choose the dressing, which has 25% less sodium*2 but keeps the full flavor of ordinary dressing since it is made with the delicious taste of vegetables.
*1 JSH Reduced-Salt Food Products Awards: The Salt Reduction Committee of the Japanese Society of Hypertension began introducing reduced-salt food products (the JSH Reduced-Salt Food Products List) in 2013 as useful information for hypertension patients and other people trying to reduce their sodium intake. In 2015, it started handing out JSH Reduced-Salt Food Products Awards to products on the list that it considered outstanding examples of sodium reduction.
*2 Contains 25% less sodium than standard Japanese-style dressing based on Standard Tables of Food Composition in Japan - 2015 - (Seventh Revised Edition).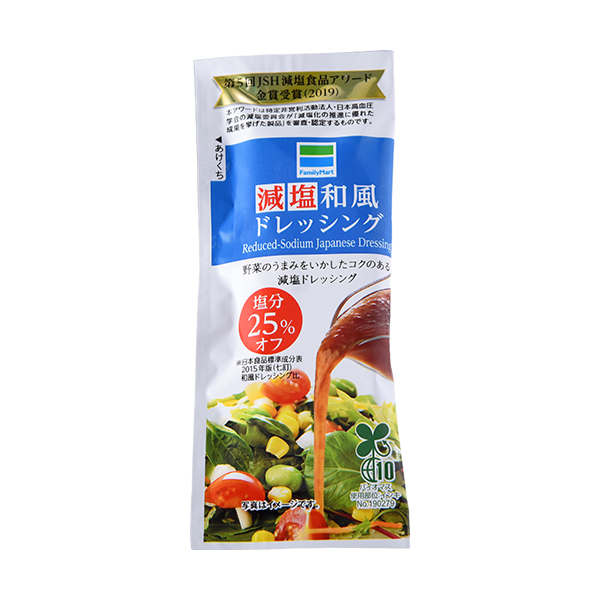 Low salt Japanese-style dressing that won the JSH Low-Salt Foods Award Gold medal

Supporting Active Lifestyles among Senior Citizens: "Keeping Tokyo Healthy with Delicious Food"
We concluded an "Agreement on Promoting Health through Ready-to-Eat Products" with the Tokyo Metropolitan Government in August 2019. As society ages, more senior citizens are living alone. Trends like this mean that more senior citizens are purchasing ready-to-eat products like boxed lunches and delicatessen dishes. The purpose of our business in this area is to enable senior citizens who purchase ready-to-eat products to enjoy a wide variety of foods that help prevent frailty* and to broadly disseminate and raise awareness about eating habits that prevent undernourishment. Since October 29, 2019, we have put up special display cards and posters and distributed leaflets in about 2,400 FamilyMart stores in the Tokyo Metropolis to provide information on eating habits that help prevent frailty. We also started selling boxed lunches developed with advice from the Tokyo Metropolitan Government. We will continue to step up cooperation with the Tokyo Metropolitan Government as a member of the local community and help to build a society where members of the community can live with confidence.

* Frailty: a physical state brought on by aging and disease in which physical, mental, and social functions decline and the person will soon need nursing care.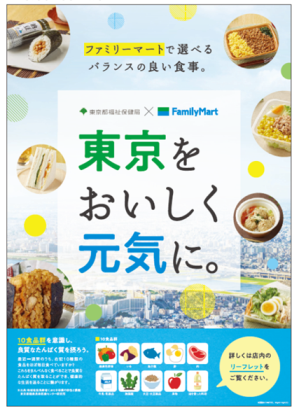 Initiatives to Reduce Food Product Additives
We began gradually reducing additives in our ready-to-eat products like noodles, bread, main and side dishes, and rice balls in March 2002. Since January 2005, we have prohibited the use of all preservatives, sweeteners, and artificial coloring in these products.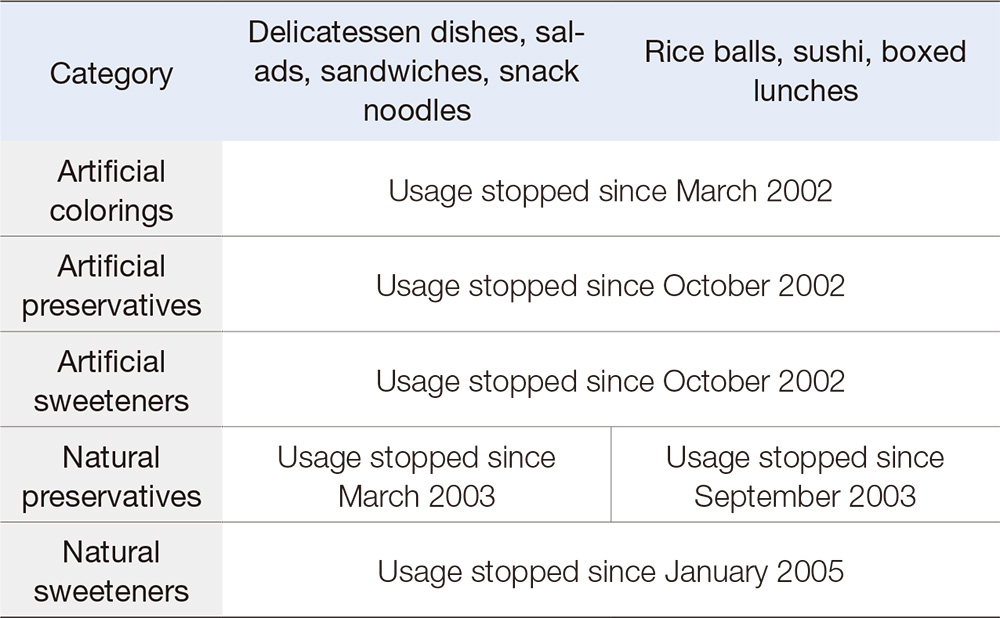 High Standards for Ingredients
High standards for ingredients are fundamental to our development of food products. When we developed Family Soft, our private-brand butter-like spread, for example, we worked to provide an inexpensive product that would be safe and reliable for our customers. We committed to not using partially hydrogenated oil, a source of trans fat that puts people at greater risk of heart disease if consumed in excess.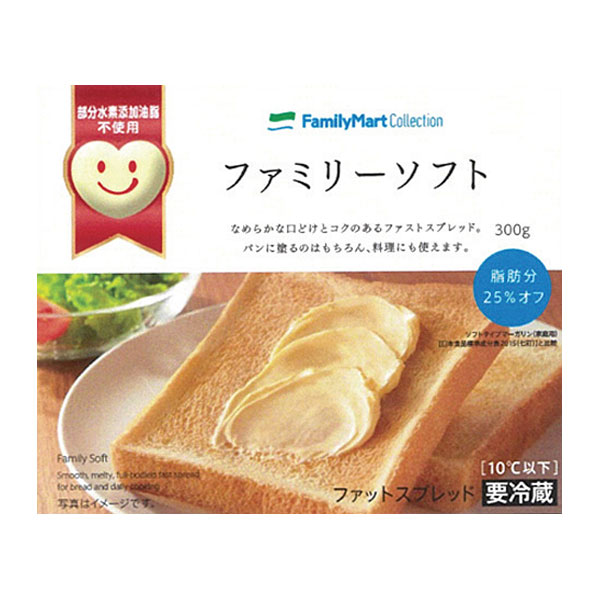 Butter-like spread without partially hydrogenated oil