Promotion of Fair and Transparent Business Activities
Committed to Supply Chain Safety and Reliability
In international society the scope of social responsibility extends not only to our company and our group companies but also to the supply chain. For this reason, in regard to the supply chain of FamilyMart UNY Group companies, the group has created Sustainability Procurement Principles and Supply Chain CSR Code of Conduct that call for preserving biodiversity, protecting natural resources, compliance with laws and social norms, respect for human rights, prohibitions against discrimination, worker safety and health measures etc. Moreover, by operating under a unified policy with all of our business partners, the group is focused on being socially and environmentally responsible and reducing risk.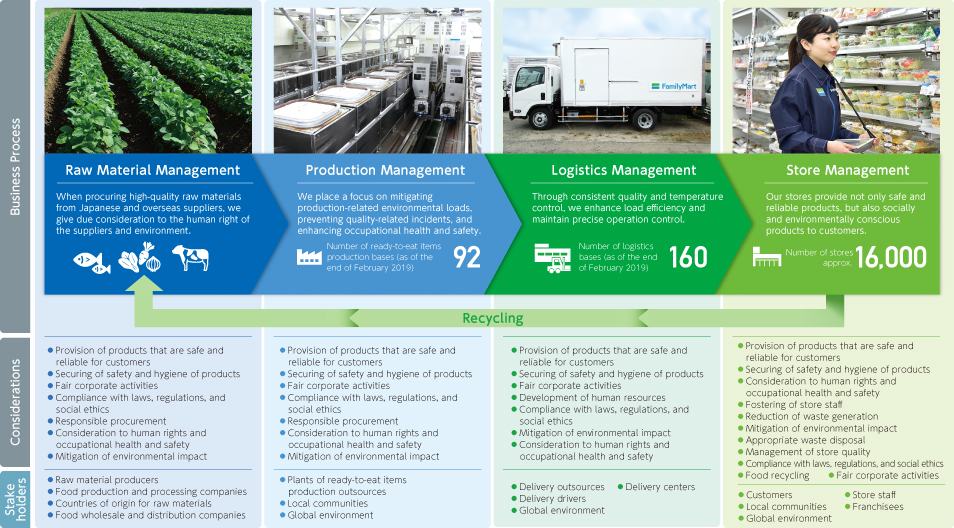 Raw Materials Management
Raw materials management system
Raw materials for ready-to-eat items are purchased from manufacturers that pass an initial review including confirmation of a certificate of inspection and a visit to their factories. Materials are examined based on our Quality and Hygiene Control Standards before supplied to producers of ready-to-eat items. Each factory also inspects the food materials they receive.
Production Management
Improvements to quality and hygiene control
FamilyMart's ready-to-eat items are produced at around 90 outsourced factories. FamilyMart collaborates with the Nippon Fresh Foods Cooperative Association organized by producers of ready-to-eat items to inspect the factories and enforce quality and hygiene control. If any problems are found during factory inspections, the factory is requested immediate correction and is put under continuous follow-up checks.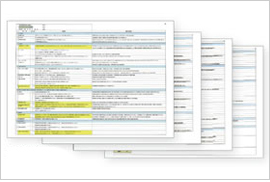 Factory inspection sheets
Cooperative system with business partners
In order to deliver safe and reliable products, the employees of producers of ready-to-eat items must understand FamilyMart's Quality and Hygiene Control Standards and maintain a common awareness on food safety and reliability. To ensure this, we host a National Quality Management Conference four times a year for personnel in charge of quality management at business partner companies. The meetings communicate key points in strengthening quality and hygiene control, share case studies at factories, and offer seminars by external lecturers. We also share know-how and provide improvement recommendations based on monthly bacterial test results, which help develop self-management.
Efforts toward systemization of HACCP
Looking ahead to systemization of HACCP at business partner production factories, we established an HACCP system that conforms to the JFS-B Standard of the Japan Food Supply Management Association and aim to receive certification under auditing by an external inspection organization to better maintain safe and reliable production environments.
Logistics Management
Delivery temperatures appropriate for the products
In its logistics process, FamilyMart thoroughly controls delivery temperatures under the categories "frozen," "chilled" and "fixed" for every phase, including delivering raw materials to the factories, delivering prepared products from factories to distribution centers, and from distribution centers to stores.
Fixed temperature products (18–22°C) and chilled products (3–8°C) are stored and sorted at fixed temperature centers, frozen products (-25°C or less) are stored and sorted at frozen centers, and room temperature products are stored and sorted at room temperature centers.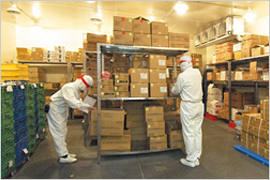 Fixed Temperature Center
Always delivering fresh products with efficient deliveries
In order to provide fresh products to customers at all times, we deliver box lunches and chilled products to stores three times a day. We use three different types of delivery trucks: frozen food trucks, room temperature trucks and fixed temperature trucks with both a fixed temperature compartment and chilled compartment. This ensures quality as well as fast and efficient delivery of our products.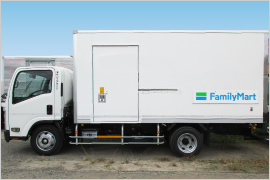 A two-chamber vehicle that carries products in two temperature as "Fixed" and "chilled"
Store Management
Safety through product hygiene management
Every store is given an education tool summarizing key points on hygiene control within stores, and employees receive guidance on quality and hygiene control practices. We are also working on multilingualization of education tool for foreign store staffs.
Building a Sustainable Supply Chain
FamilyMart established the Sustainability Procurement Principles and the Supply Chain CSR Code of Conduct. We strive to realize a sustainable society throughout the entire supply chain, not only with respect to the Company but also in cooperation with such business partners as suppliers of agricultural, livestock and marine products, subcontracted makers of private brand products and original products, and importers.