Development and Revitalization of Local Communities
Gathering Places in Local Communities
Eating spaces in FamilyMart stores are also used as places for community members to strengthen their connections with each other. People use these spaces for things beyond just eating and drinking the products they purchased. They use them as break areas during the workday at stores in business districts, as community spaces for family and friends to have pleasant conversations with each other at stores in residential areas and on the roadside, and people also use them for events put on by local NPOs, school clubs, and other organizations.
FamilyMart Children's Cafeteria was launched in March 2019 as part of our initiatives to encourage interactions in the community and support children, the future of our country. These cafeterias leverage the eat-in spaces in our stores to give participants an opportunity to connect with other members of the community by enjoying meals together.
Furthermore, in December 2019, Famima Circle was launched to provide an in-stores venue for communication with local residents where police and municipalities speak on issues that have emerged with an aging and declining population and smaller families, such as preventing certain types of fraud, or senior citizens voluntarily turning in their driver's license. Those who attend can interact
more intimately with speakers, store managers, and staff. In some cases, these kinds of fraud have even been prevented by staff members who were aware of customers' suspicious behavior and talked to them, thanks to the ties they developed with the store. In this way, providing useful information and
promoting local exchange encourages community-building supported by everyone.
About 7,847 stores (as of the end of May 2019) across Japan now have eat-in spaces.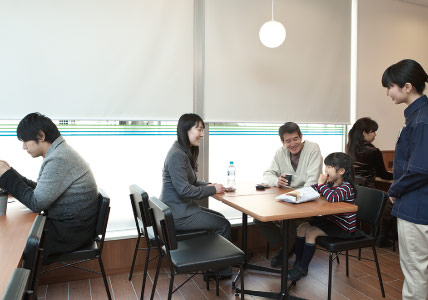 Eat-in space used as a place for community gatherings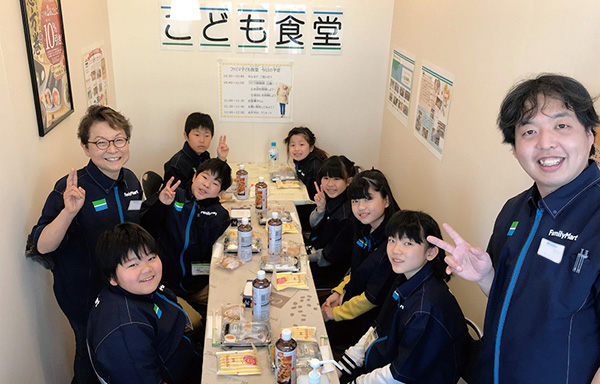 At a FamilyMart Children's Cafeteria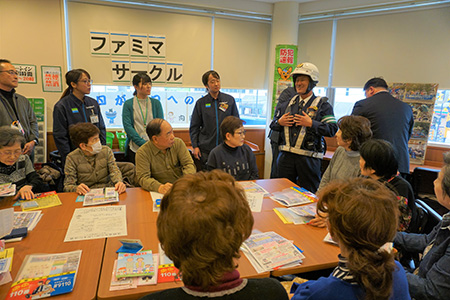 A police officer speaking at Famima Circle
Responding to an Aging Society
Utilization of Senior Staff
In the midst of the acceleration of population aging in communities, FamilyMart has been promoting efforts to leverage the knowledge, skills, and motivation to work of senior people. Stores actively employ healthy and energetic senior people while giving due consideration to the employment situation in the community. Senior employees work at stores vigorously while sharing their wisdom and experience that they have built up through life in the community over the years. Moreover, the network that senior employees have with community people helps build not only trust relationships between stores and customers, but also a solid bond between stores and the entire community through communication.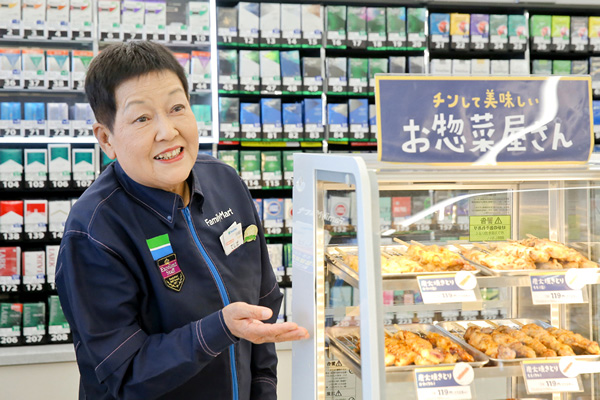 Senior staff working enthusiastically
Dementia Supporters
With the goal of achieving a society in which the elderly can thrive stress-free in the communities with which they've become familiar, FamilyMart store managers, store staff, and head office employees take the Dementia Supporter training courses provided by organization such as local governments, the Japan Franchise Association, and store manager assemblies in local areas. By working with dementia and their family members and by making efforts to build systems of support, we are looking out for the elderly as a member of the community.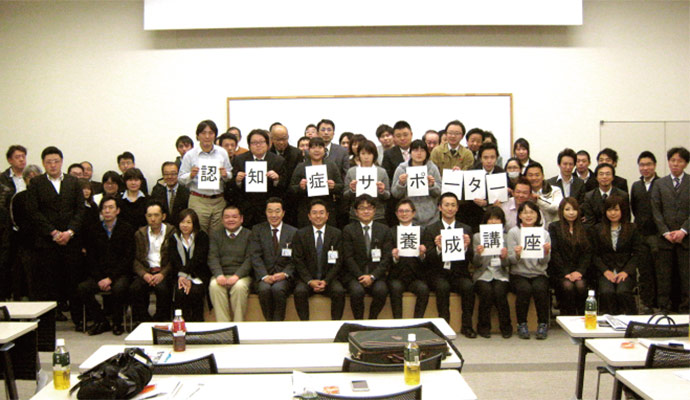 Dementia Supporter training course participants in Nagano Prefecture
Support for the Program to Support the Voluntary Return of Driver's Licenses for the elderly
Amid a rising number of traffic accidents by elderly drivers, FamilyMart is lending a hand to the Program to Support the Voluntary Return of Drivers Licenses for the elderly. In Kagawa, Aichi, and Kochi prefectures, we are giving out QUO (prepaid) cards, which can be used at FamilyMart stores, to people 65 and over return their licenses. And in Tokyo, we are giving out vouchers for Takuhai Cook 123, a boxed lunch delivery service provided by our group company SENIOR LIFE CREATE Co., Ltd.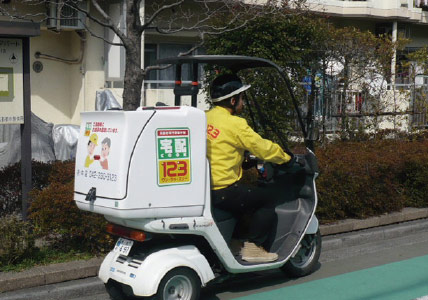 Takuhai Cook 123 service
Nagano Prefecture: Nagano Courtesy Passport for Parenting Families
The Nagano Prefectural Council for Child and Childcare Support (chaired by the governor of Nagano Prefecture) introduced the Nagano Courtesy Passport for Parenting Families project in April 2010 in cooperation with municipalities. Under this project, parenting families can avail discounts and other services by showing the Passport Card during shopping or other activities. Many companies and stores have joined this project to foster an atmosphere of support for children and child raising families in the prefecture.
Stores offering this service:
Stores registered under the Nagano Courtesy Passport for Parenting Families project
*Please look for the Nagano Courtesy Passport for Parenting Families sticker and show your Passport Card to the store staff.
Services provided:
The stores provide warm water for baby formula.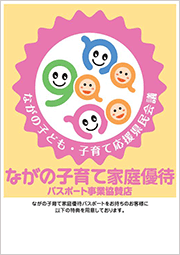 Look for the Nagano Courtesy Passport for Parenting Families sticker.
Safety Station activities
As a member of the Japan Franchise Association, FamilyMart takes part in efforts Safety Station activities, which seek to protect safety in local regions. Activities conducted by convenience stores throughout the country are done in coordination with members of the community, local governments, and governmental agencies. These efforts are aimed at providing shopping assistance to seniors and those with disabilities, as well as to build better environments for young people. These activities involve conducting everyday measures to prevent theft, prepare for disasters, and ensure safety, as well as providing temporary refuge to individuals that include women, children, and those with dementia. Stores are run with roots established in the community, with staff actively engaged in things like prohibiting the sale of cigarettes and alcohol to minors and encouraging late-night visitors to return home.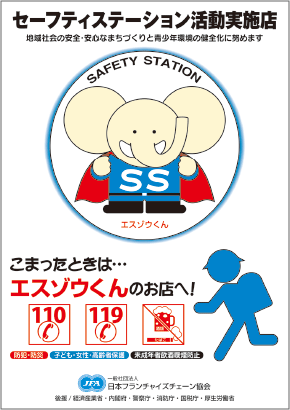 Safety Station poster
Transportation Services for Everyday Life
Car Sharing Service
FamilyMart uses the parking space in its stores to provide a car sharing service under which people can share cars instead of owning them. Offered at 54 stores across four prefectures (as of the end of September 2017), this service helps in conserving energy and reducing CO2 emissions.
*Member registration is required to use this service.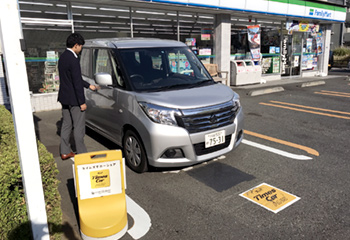 Taxi Dispatch Service
From 2012, we have also started a taxi dispatch service that enables customers to call local taxis from our stores. We have tied up with taxi companies to provide this service across 164 stores in the Tohoku, Hokuriku, Kinki, Chugoku and Kyushu regions (as of the end of September 2017).
The discontinuation or scale-down of bus and railroads in rural areas is leaving more and more people outside of the scope of public transportation. This service provides a means of transportation to such people in their everyday lives.