Disaster Countermeasures and Support for Disaster-affected Areas
Serving as social and living infrastructure during disasters
FamilyMart has been appointed as "Designated Public Institution" by the Prime Minister in accordance with Article 2, item (v) of the Basic Act on Disaster Control Measures. Designated public institutions play important roles in efforts such as drafting disaster management operation plans, preventing disasters, and carrying out response measures and recovery efforts.
When disaster strikes, FamilyMart leverages its extensive nationwide logistics network to offer its coordinated transport capabilities to those in need and provide emergency relief supplies. Its stores make themselves available as evacuation sites for locals.
In addition, FamilyMart has systems in place for the disaster recovery stage as well. Its employees directly visit disaster-affected areas as relief workers and carry out recovery activities to ensure that normal life can be restored for the people as soon as possible.
The Company has also installed small power generators at its business sites across Japan. This enables power supply to its stores in the event of a disaster. The Company is building a system that can remain operational even during disasters, thereby creating stores that provide strong support in the face of such challenges.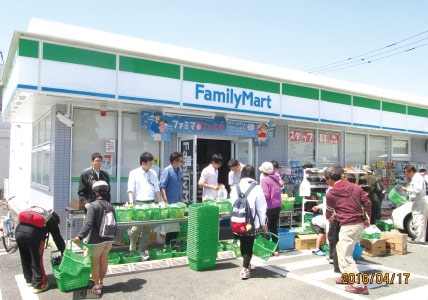 Store operations immediately after a disaster
Donations of disaster relief money
FamilyMart has a system in place to immediately start collecting donations at its nationwide stores when a massive disaster strikes in Japan or any other part of the world.
We have contributed relief money to many disaster-affected areas with generous cooperation from our customers.
Donations of disaster relief money in past three years
(Yen)
FamilyMart participates in the Social Emergency Management Alliance (SEMA), Japan's first such initiative led by a corporation
FamilyMart participated in the Social Emergency Management Alliance (SEMA) in August 2017. Made up of 17 private firms and 6 NPOs providing disaster relief, the alliance provides a full range of support that includes providing the goods and services of each company in the event of large-scale natural disasters that occur in Japan. The alliance maintains a current list of the goods and services of each member company and group, and the list is used by each company to prepare support packages and quickly provide them to affected regions. The alliance also seamlessly coordinates with public agencies with the goal of reducing the burden on local governments in affected regions. Leveraging the logistics, information, and other networks that connect all its stores nationwide, FamilyMart proactively supports affected areas as part of efforts to fulfill its responsibility as "social and living infrastructure."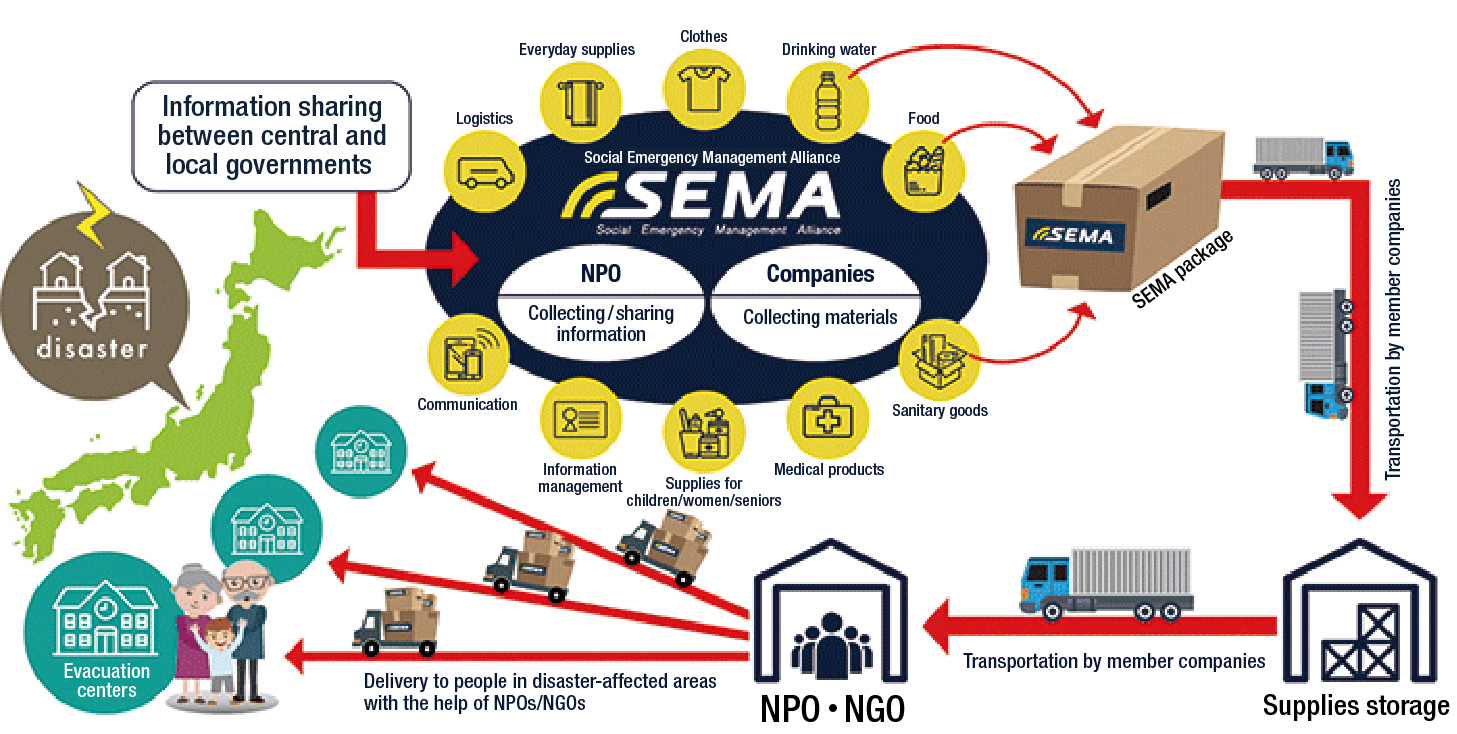 Continued Support for Disaster-Affected Areas
Serving as social and living infrastructure during disasters
FamilyMart provides support to children in areas affected by natural disasters, such as the Great East Japan Earthquake and the Kumamoto Earthquake, through Bell Mark activities.
Since May 2011, Bell Marks collected in-store, at contracted food production plants, and at the head office have been donated to elementary schools in areas severely damaged by the Great East Japan Earthquake and the Kumamoto Earthquake.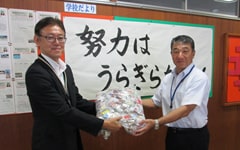 Delivering Bell Marks to elementary schools affected by the 2016 Kumamoto Earthquake (FamilyMart)
The Michinoku Future Fund, Granting Children's Dreams
The Michinoku Future Fund* is a fund that provides scholarships to children that lost one or both of their parents in the Great East Japan Earthquake, so that they can receive a better education and do not have to give up on their dreams. FamilyMart has been supporting the efforts of The Michinoku Future Fund since 2012.
The Company will continue donating to the fund until 2021, for a total of 10 years, in order to support the education of children in disaster-affected areas.
・Donation Period: 2012 - 2021 (10 years; donated every year in March)
・Donation Recipient: The Michinoku Future Fund
・Donation Amount: 30 million yen (3 million yen per year for ten years)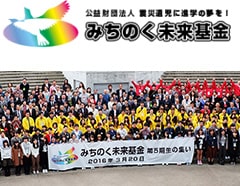 Local seaweed sales workshop for children
Our employees visit elementary, junior high and high schools to conduct workshops where they give lectures as instructors. This effort began in 2012 in cooperation with Save the Children Japan, which supports children in disaster-affected areas. We held a sales workshop at Matsusaki Junior High School in the city of Ofunato, Iwate Prefecture, an area that suffered from the destructive effects of the tsunami. This workshop was part of the school's integrated studies program on the cultivation and sale of local seaweed. The tsunami had swept away all cultivation facilities and the painstakingly cultivated local seaweed. In the hope of lending what support we could to students involved in rebuilding the wakame industry, we demonstrated various sales techniques related to greetings, customer service and creation of promotion materials.
FamilyMart will continue to support these efforts in future too.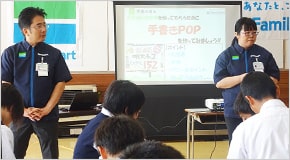 Lecturing how to sales to students by Familymart employee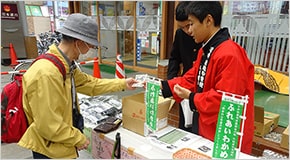 Local seaweed sales workshop for children
New stores and resuming operations
With the encouragement of our customers, we are returning to business in disaster-affected areas.
Store managers have decided to reopen stores as a gesture of returning the favor to customers and the local community. Local people and construction workers are once again enjoying the convenience of the stores that have managed to reopen with support from the staff.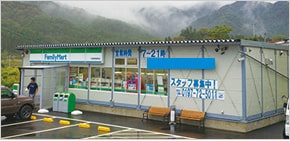 Prefabricated temporary unit store
Continued collection of donations for the Great East Japan Earthquake relief efforts through Famiport
Donations to help areas affected by the Great East Japan Earthquake are still being collected through the in-store Famiport (Multi Media Kiosk terminal).